There's no denying that I love a good food adventure. Whether that means eating all the foods with my friends in DC, taking a cooking class in Athens or having a mystery dining experience in Wellington, among many others, then sign me up! Though for all my love of admiring and eating good food, I don't do much in my own kitchen (sorry Mom!). Unless it's cupcakes. But we're not here to talk about those today.




Earlier in April, I booked a table for the Biz Adventure Squad at True Blue Bay Resort's second culinary experience at their Dodgy Dock Restaurant. True Blue Bay Resort has always hosted fun events, but they've truly been innovative in adapting to the reality of this pandemic. Their popular Balcony Concert series lets you enjoy live music from the comfort of your hotel room balcony. I haven't been to one yet, but all reports have been that it's an experience not to miss. So, it's on the list!

These new culinary experiences, designed to bring a taste of the world here to us in Grenada, started in March with Mexican Street Food. I was intrigued from the moment I saw the flyer. Unfortunately the timing wasn't right for me. I promised myself I would make it to the next one.
Cocoa-chocolate culinary experience: a journey to the world of chocolate!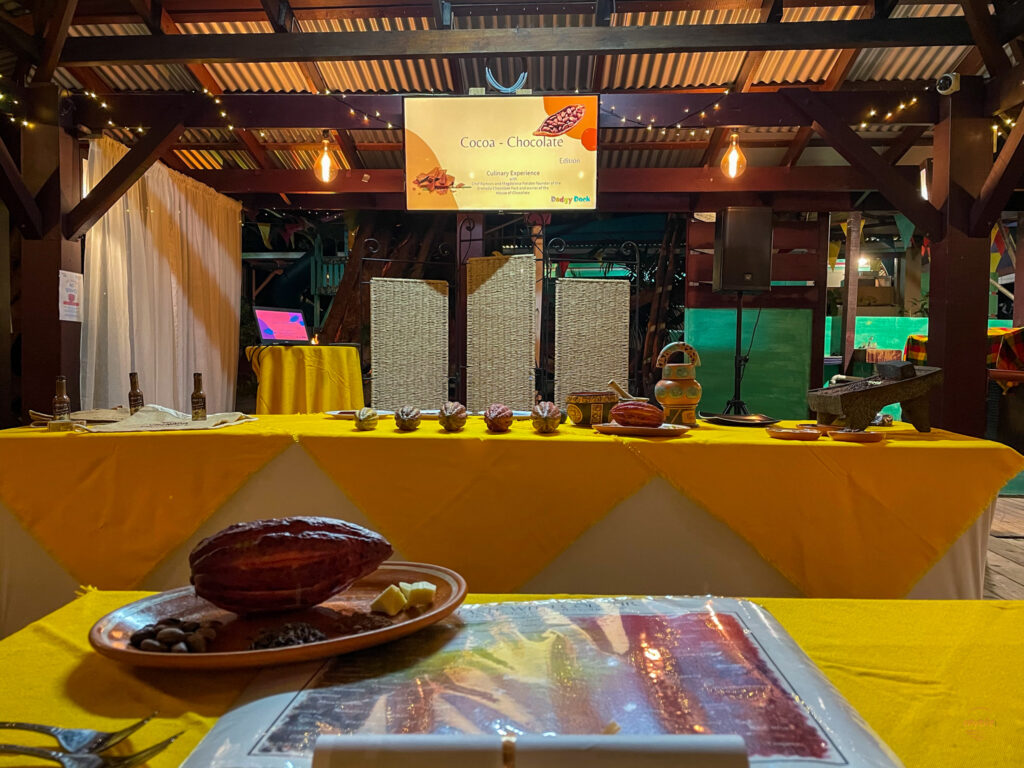 Featuring a 7-course meal with demonstrations, chocolate tasting, chocolate martinis, cocoa tea, cocoa pulp juice and a take-home recipe book, this cocoa-chocolate culinary experience promised a journey to the world of chocolate. And oh what a journey it was, led by Chef Ramces Castillo and Magdalena Fielden, founder of the Grenada Chocolate Festival.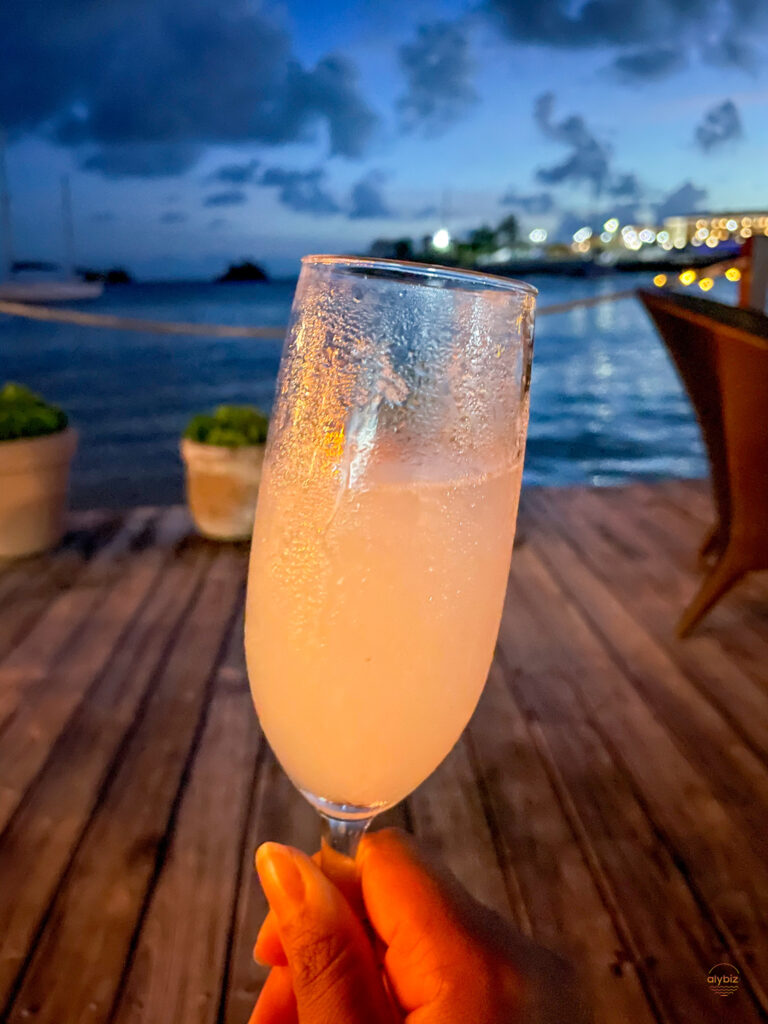 The chocolate culinary experience started with a chocolate tasting of 3 pieces of fine Grenadian chocolate: Grenada Chocolate Company's 100% dark, Crayfish Bay's 75% and Belmont Estate's Pure Grenada 60%. Magdalena led us through tasting techniques that use all five senses: sight, sound, smell, touch and taste.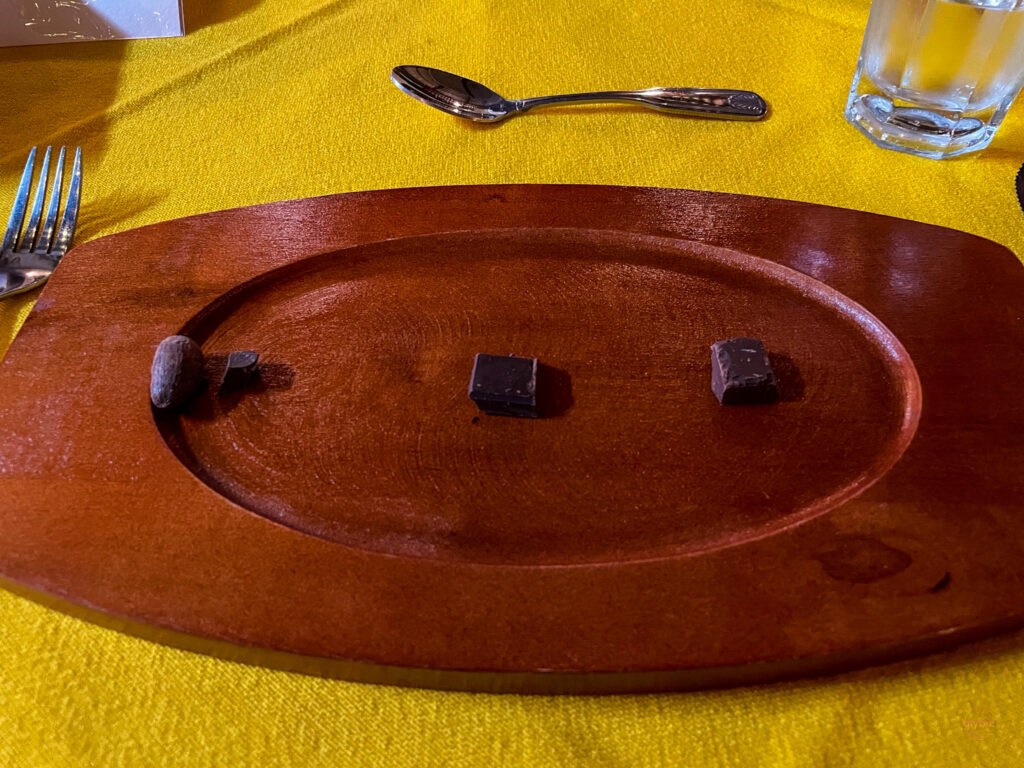 Sight, smell and touch were straightforward, but sound caught some of us by surprise. When Magdalena said to listen to the piece of chocolate, I looked around and almost everyone (myself included) had held the chocolate to their ears. Did we think it was going to be like a conch shell? But no, the chocolate didn't sing. What you're listening for is that snap when the chocolate breaks. That's a sign that the chocolate was well-tempered.

Finally, Magdalena introduced us to a concept of tasting with colour developed by Hazel Lee, creator of the Chocolate Tasting Flavour Map. How do you taste with colour? It's simple. Close your eyes the next time you taste a piece of chocolate. What colours do you see? The flavour map associates different flavours with colours. So if you see yellow and orange, the corresponding flavours are lemon or honey. Reds with berries and browns and greens with earthy flavours.
The fascinating history of chocolate

Research suggests that the earliest evidence of chocolate consumption dates back to c.1200 BCE to the Olmecs, the first pre-Columbian civilization of Mesoamerica (modern day Mexico). The Olmec name for cacao/cocoa is kakawa, considered food of the gods. Cacao was an integral part of the culture and used in several ways. The Aztecs used cacao beans as currency, and xocolatl is what the Mayans called the drink made from the cacao beans.

To inaugurate our chocolate culinary experience, we were served a ceremonial cocoa tea or cacao water called cacahuatl. Unlike our traditional Grenadian cocoa tea that is flavoured with spices like nutmeg, cinnamon, bayleaf and may include milk, the cacahuatl has chili flakes and corn flour masa.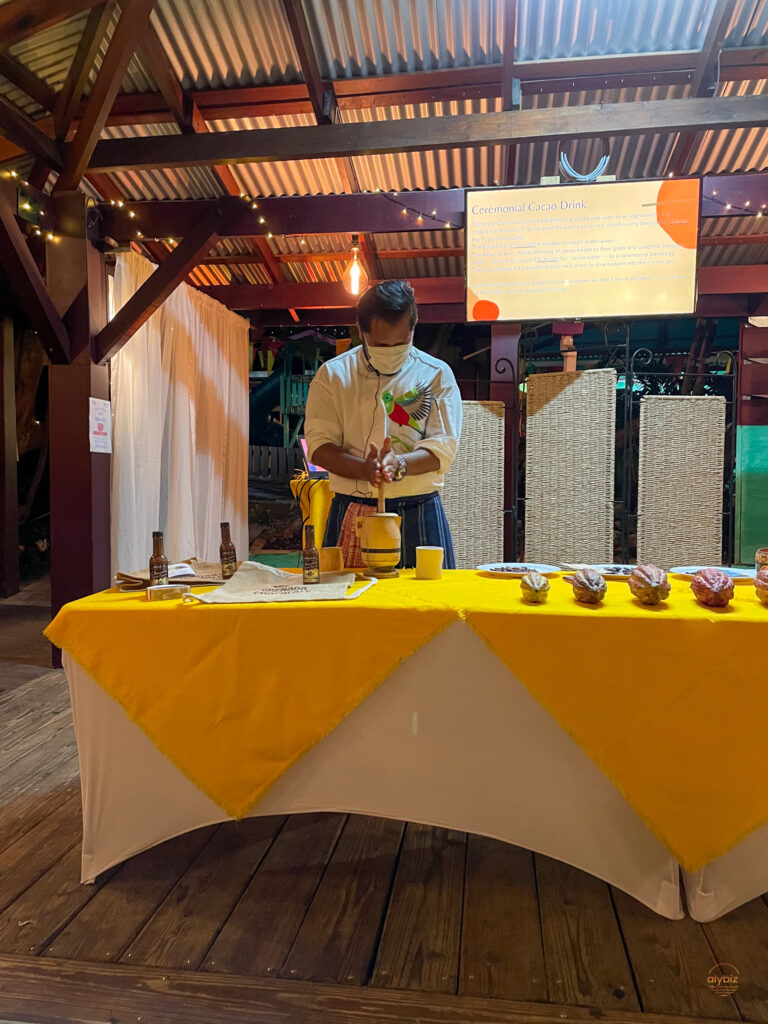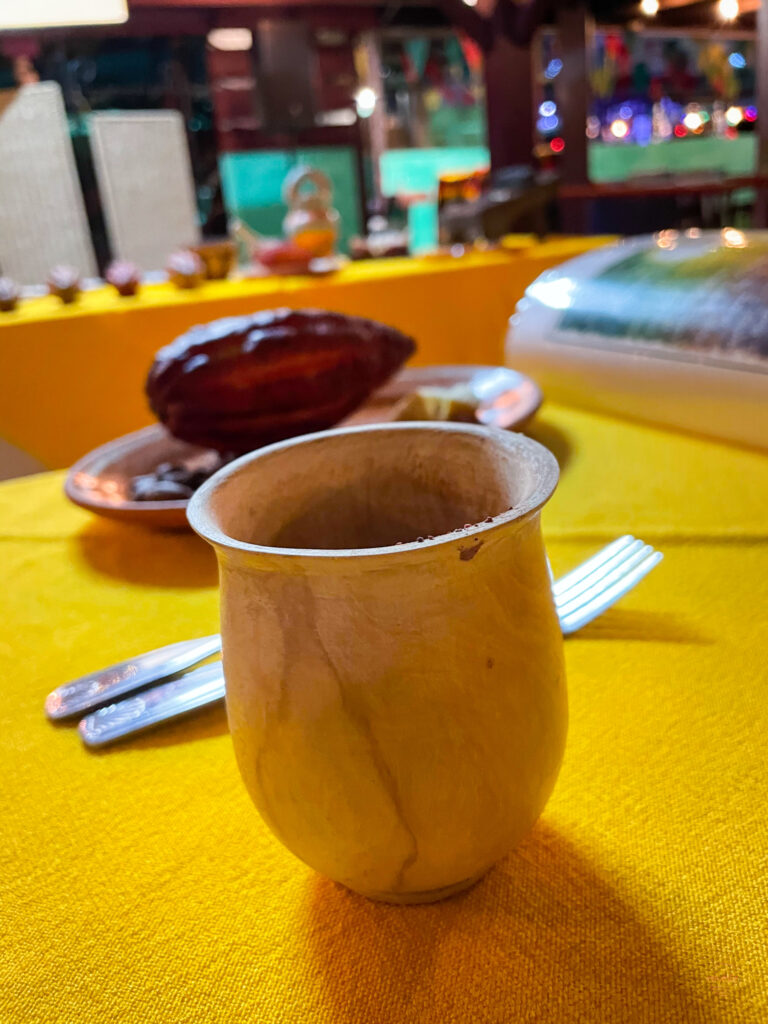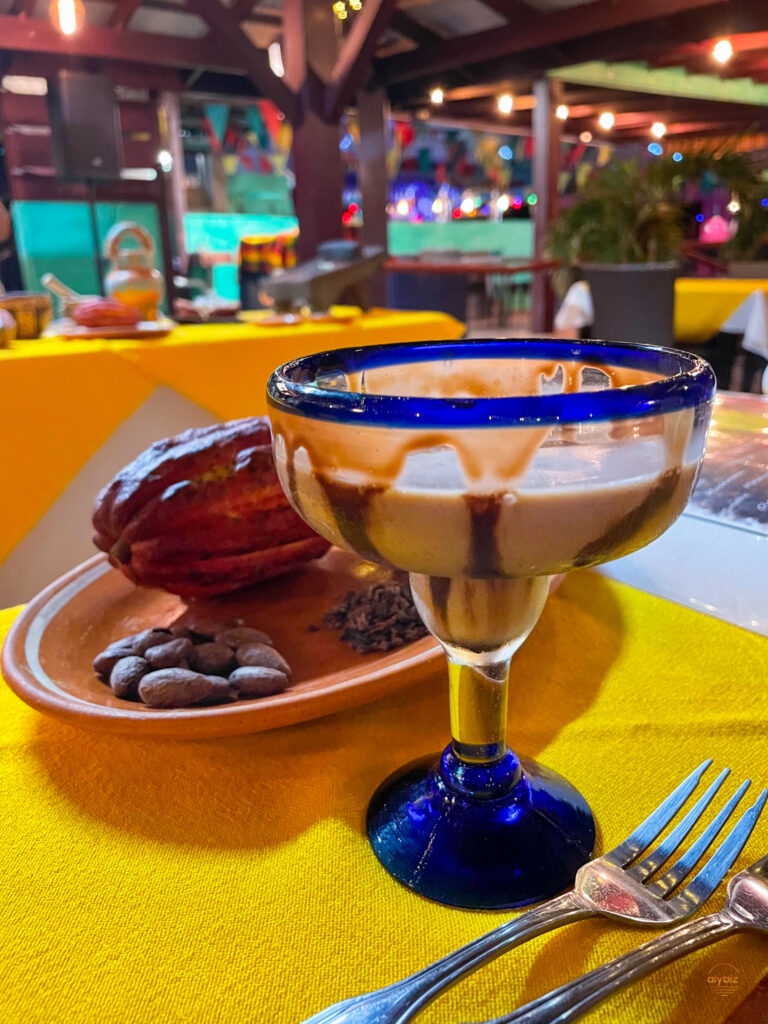 Grenada's cocoa story

After we inaugurated the experience, Magdalena spoke about cocoa in Grenada while we waited for our third course. If you'd like to read more about cocoa and chocolate in Grenada, check out The Cocoa Revolution: A Grenada Chocolate Story blog post that I published last year.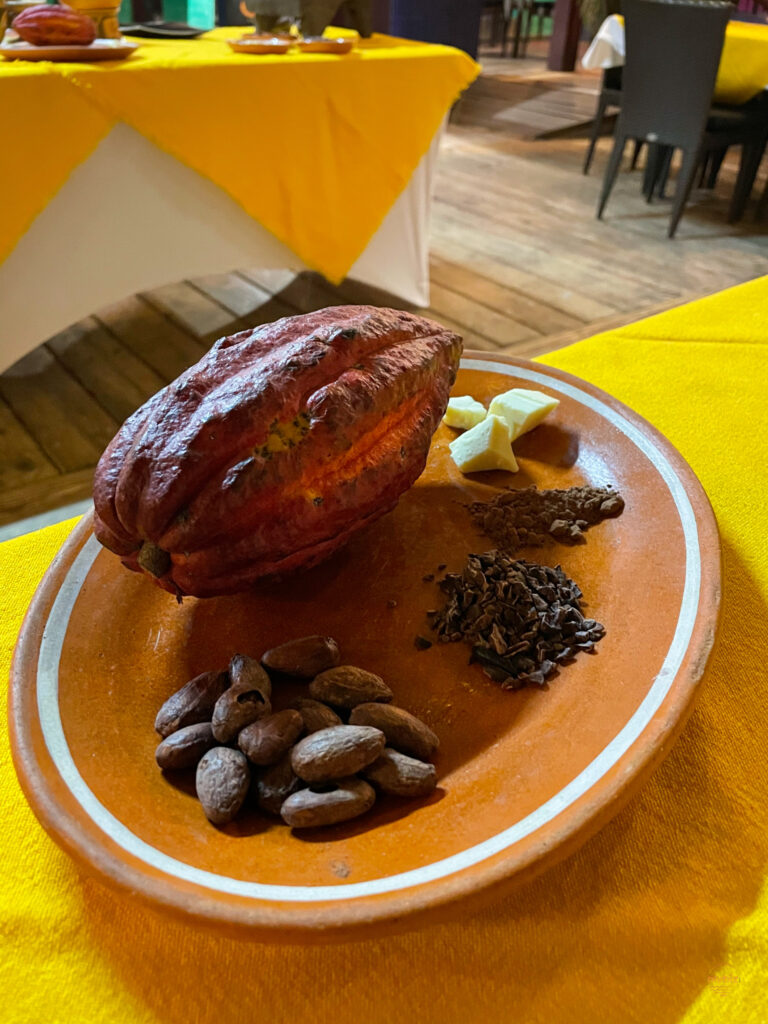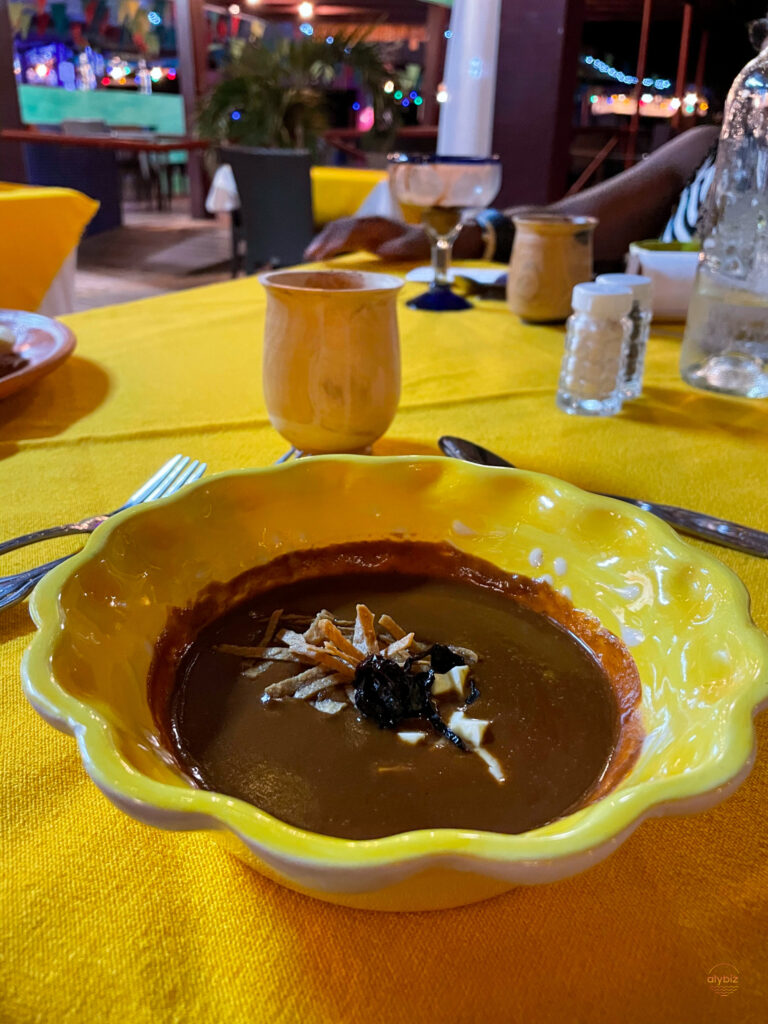 Our next two courses featured the mighty cocoa nibs. Cocoa nibs are delicious and good for you! Some health benefits include preventing premature aging and improving cognitive function.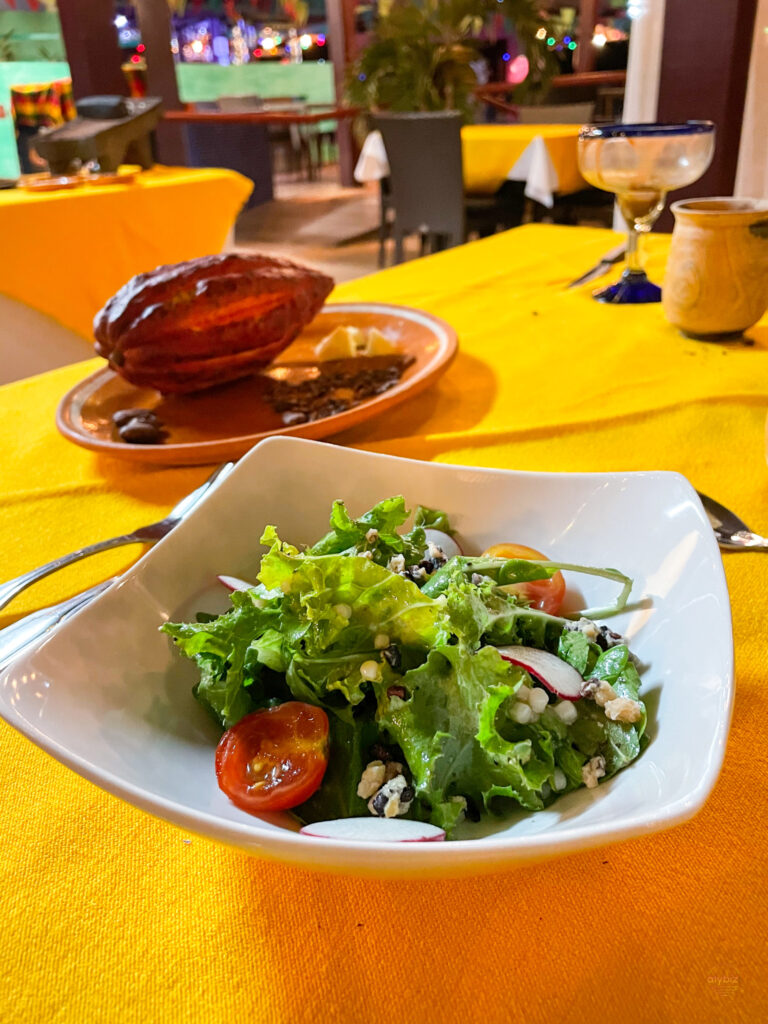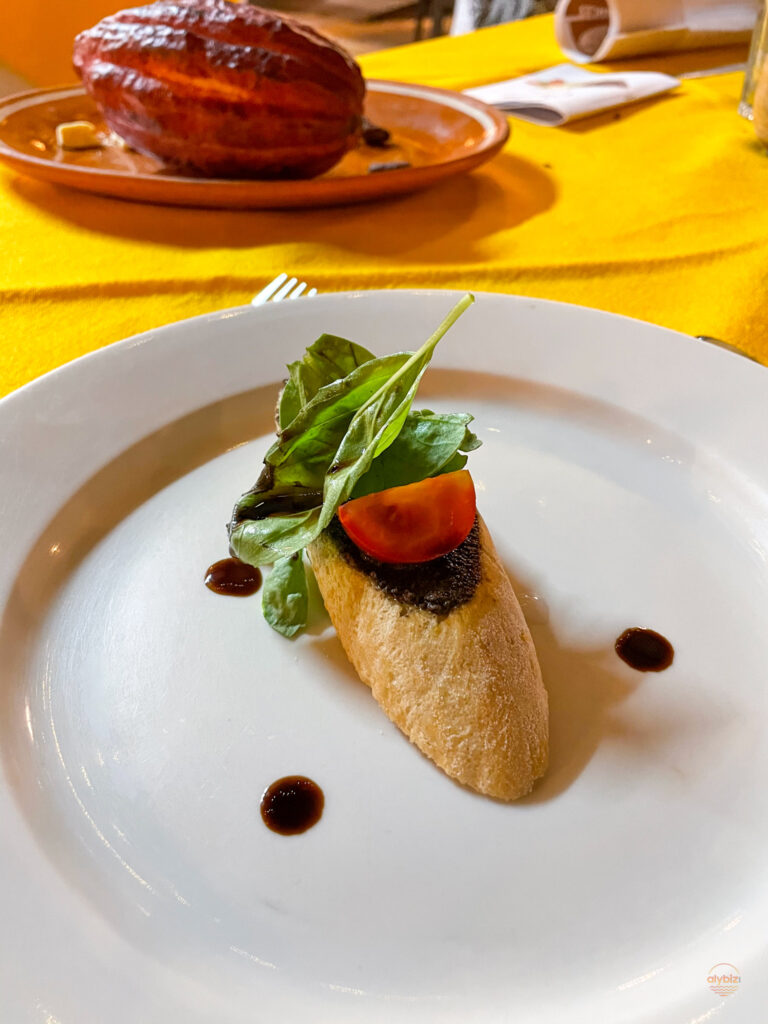 "It takes a village to make a bar of chocolate." – Mott Green

You can't have a Grenadian chocolate experience without acknowledging the late Mott Green, founder of the Grenada Chocolate Company and pioneer in the tree-to-bar chocolate movement. While Magdalena recounted some of her favourite Mott memories, our next course made its way to our tables.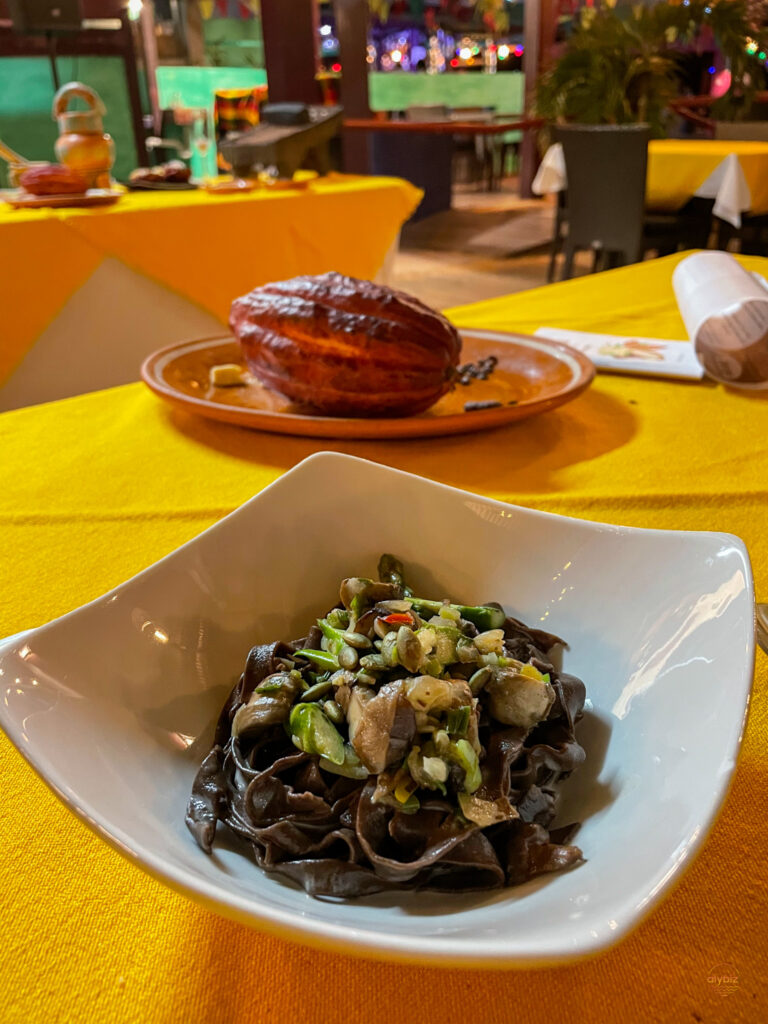 By the time I finished my chocolate pasta, I didn't think it was possible for Chef Ramces to amaze me any further. I mean, chocolate pasta! But then, the next course arrived.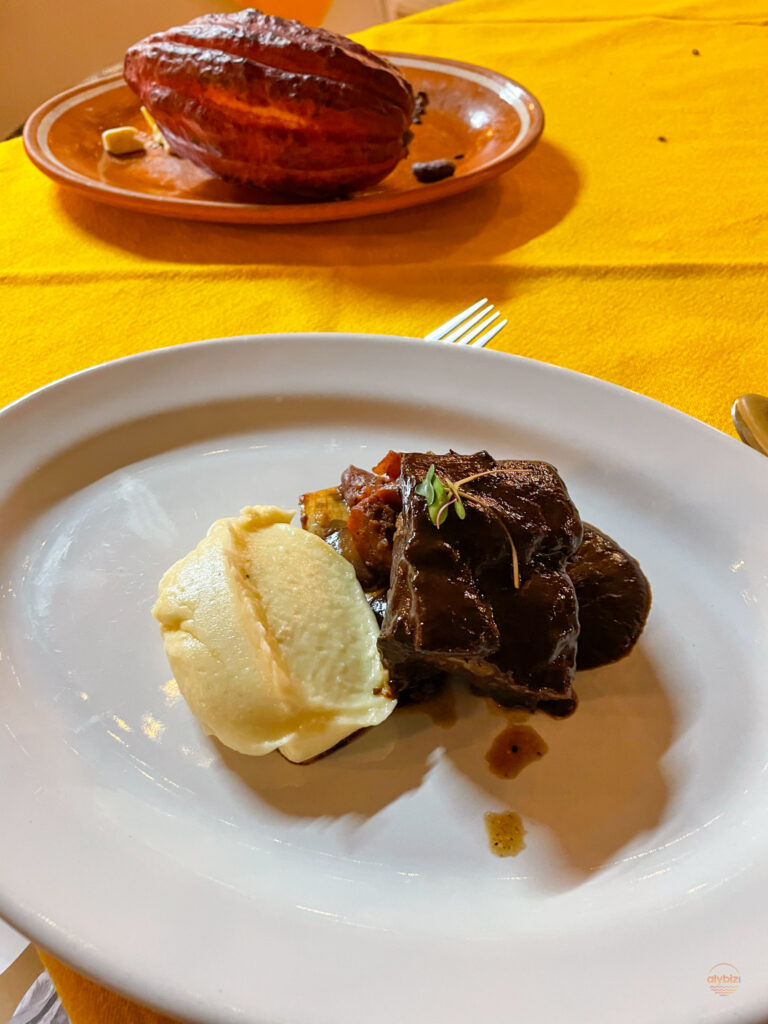 Excuse me? Cocoa butter mashed potatoes?! I'm so used to using cocoa butter as a moisturizer that I completely forgot that it is edible. But how did it taste? Like cocoa butter, which surprisingly was not off-putting. Though Chef warned us not to make the dish too often. You have to use a lot of cocoa butter.

And now, dessert.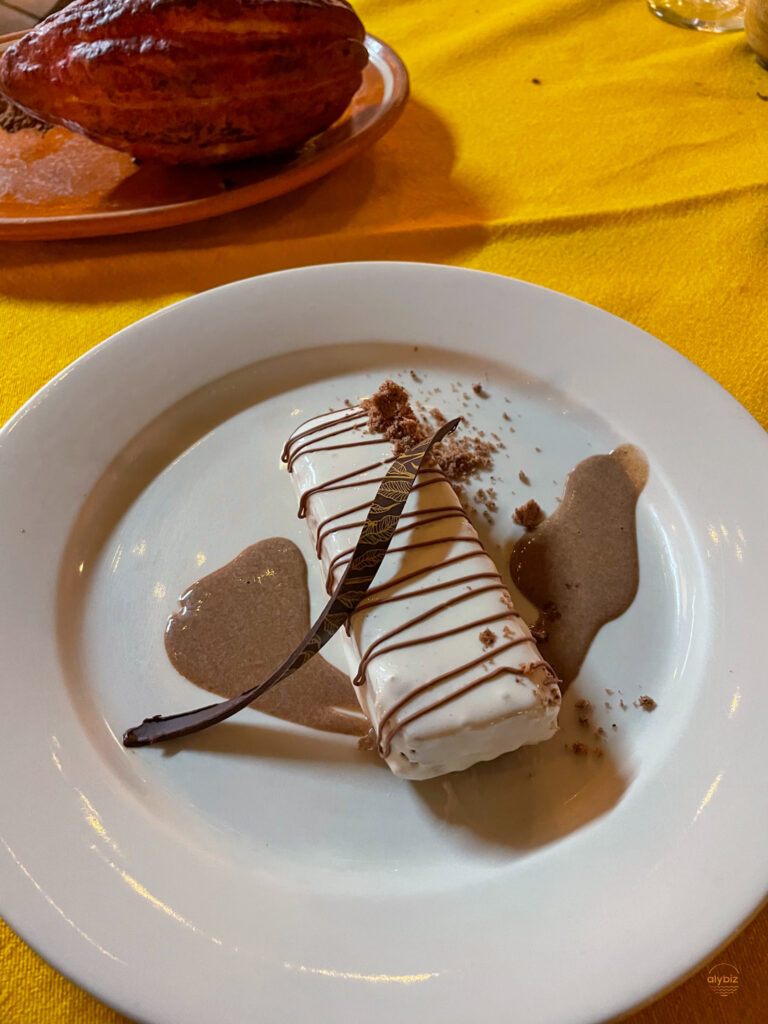 Wow.

This chocolate culinary experience was an epic journey to the delicious, delightful world of amazing chocolate. The Grenada cocoa and chocolate industry has so much to offer. I can't wait to see what the Grenada Chocolate Festival team has planned for the 2021 festival happening July 23 – 28. But while we wait for July, let's enjoy some chocolate!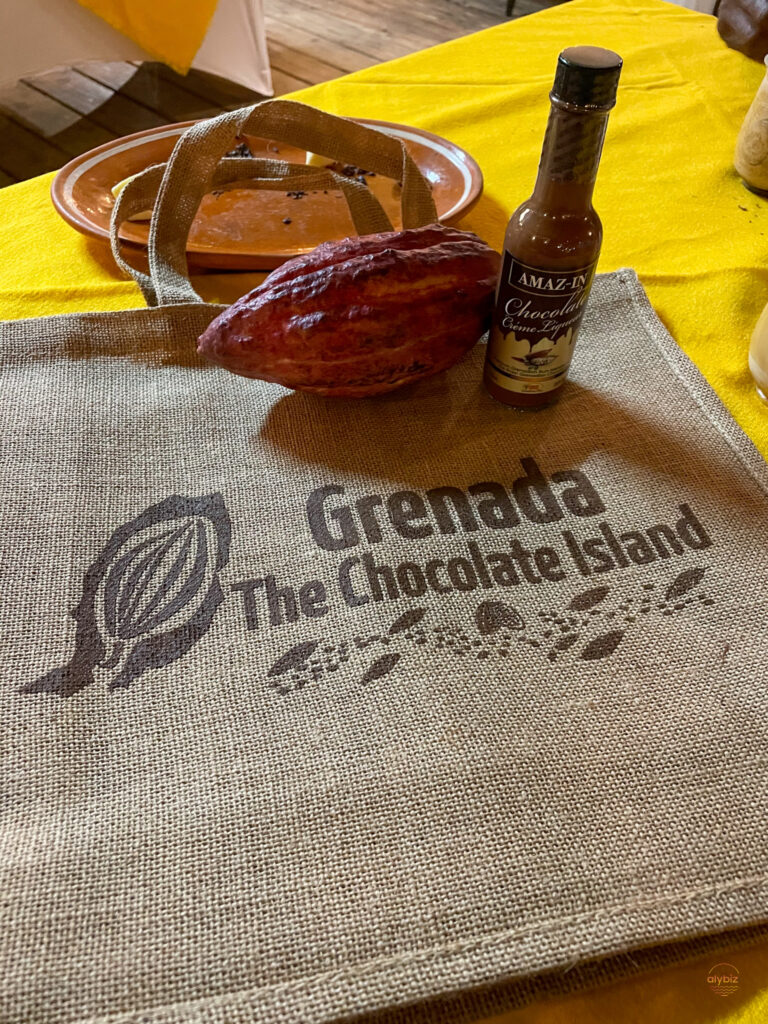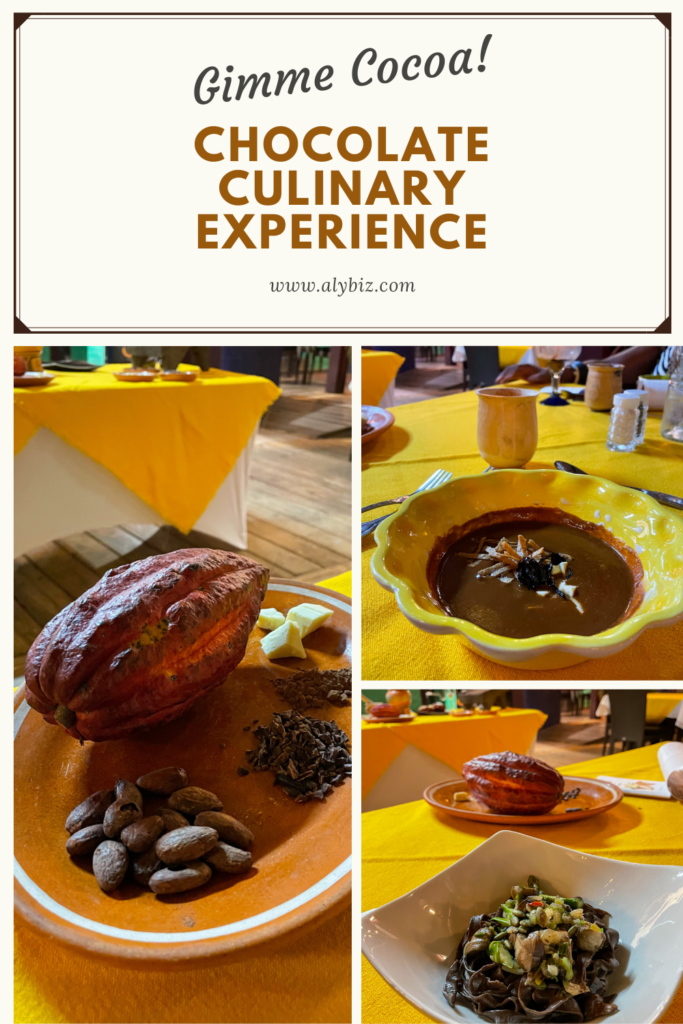 (Visited 468 times, 1 visits today)