Grenada COVID-19 Entry Guidelines. Last Updated: November 18, 2021

Grenada is open for visitors! Here's a little "what you need to know" about Grenada's COVID-19 entry guidelines.

Disclaimer: this blog post is a summary of the travel protocol published by the Ministry of Health. Please visit the Ministry of Health's website  before booking travel to Grenada.
Grenada COVID-19 Entry Guidelines

Immigration officers will deny entry to visitors who are not vaccinated against COVID-19. Grenadian citizens, residents and children under 12 travelling with fully vaccinated adults are exempted from this requirement.

The information in this blog post outlines the protocol for fully vaccinated travellers only. You can read the travel protocol for unvaccinated travellers here.
Before Your Flight To Grenada
Submit Travel Health Declaration Form

All travellers to Grenada must submit the electronic travel health declaration form and receive their Health Declaration Certificate before travelling to Grenada. You can access the travel health declaration form here.  
Take a SARS-CoV-2 PCR Test

All arriving passengers over the age of 5 must show proof of a negative SARS-CoV-2 PCR test result from a test taken within 72 hours prior to arrival in Grenada. This means that if you are scheduled to arrive in Grenada on a Saturday, then you should take your PCR test no earlier than Wednesday. This "When To Test" graphic shows the full 3-day testing window.
Grenada COVID-19 Entry Guidelines: Arrival in Grenada

Upon arrival in Grenada, all passengers must present their Health Declaration Certificates, negative SARS-CoV-2 PCR test results and COVID-19 vaccination cards for verification by health screeners. Once through Immigration & Customs, passengers can take personal or other types of transportation.
What To Expect In Grenada
Once in Grenada, you will need to follow the COVID-19 regulations. Failure to comply with these regulations may result in fines.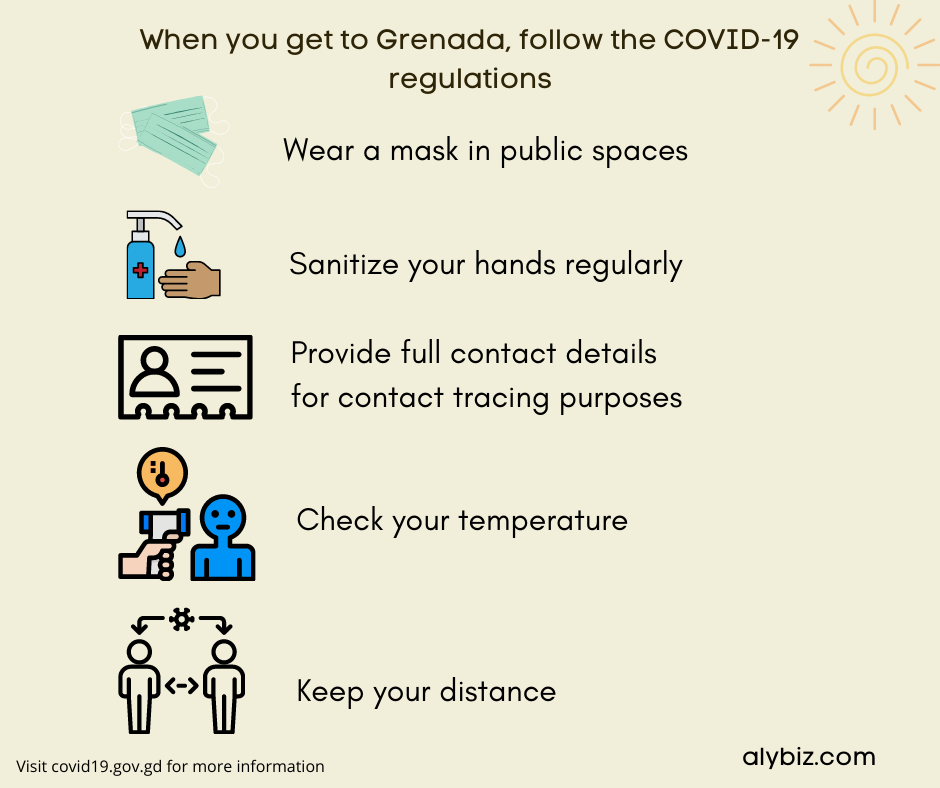 Masks

Masks or appropriate face coverings are required in all places of business such as banks, retail stores, restaurants, and on public transportation.
Sanitization

You will be required to wash or sanitize your hands before entering business places.
Contact Tracing Information

Restaurants, retail stores and some office buildings require full contact information (name, address and telephone number) for contact tracing purposes before you can enter the premises.
Temperature Checks

You will be required to check your temperature before entering places of business.
Physical Distancing

You will be expected to maintain physical distancing by observing the posted signs and markers when in places of business.


Please note that the information provided in this post is a summary of the Grenada COVID-19 entry guidelines for fully vaccinated travellers. Please read the official travel protocol before making any travel arrangements to Grenada. For the full Grenada COVID-19 entry guidelines and information, visit the Ministry of Health's website or Facebook page.


(Visited 2,176 times, 1 visits today)