Grenada COVID-19 Entry Guidelines. Last Updated: October 12, 2020

On July 15th 2020, Grenada's borders reopened for commercial air travel. In an effort to minimize the potential spread of the novel coronavirus in the country, the Ministry of Health developed an air travel protocol with specific Grenada COVID-19 entry guidelines.

As part of this travel protocol, the Ministry of Health has implemented a colour-coded system that classifies countries into three (3) zones: Green (low risk), Yellow (medium risk) and Red (high risk). The level of risk is determined using the European Centre for Disease Prevention and Control's classification of a Covid-19 14-day case notification rate per 100,000 population.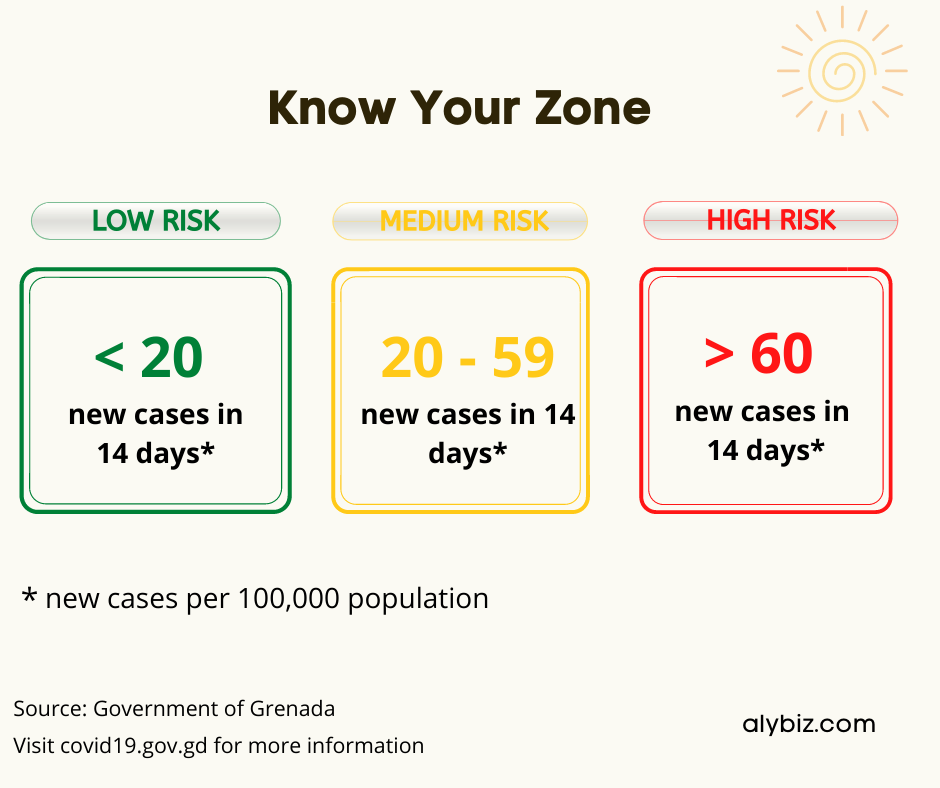 This classification system means that testing and quarantine requirements once in Grenada will vary by zone. However, it is important to note that the applicable zone is determined by travel history for the 14 day period prior to arrival in Grenada. Therefore, if a passenger arrives from a Green Zone or low-risk country, but has travelled from or through a Red Zone or high-risk country within 14 days prior to arrival in Grenada, then the Red Zone testing and quarantine requirements will apply.

If you are planning any travel to Grenada within the coming months, please read the Grenada Air Travel Protocol carefully. It's a detailed document, so I've put together a summary aka the quick version.
Grenada COVID-19 Entry Guidelines: The Quick Version
All Arriving Passengers 
Negative PCR Test Result

All arriving passengers, including those from the CARICOM bubble, must have a negative PCR test result from a test taken no more than 7 days prior to arrival in Grenada.
Health Declaration Form, Waiver of Liability Agreement, and Public Health Locator Form 

All passengers must present the completed Health Declaration Form, Waiver of Liability Agreement and Public Health Locator Form on arrival in Grenada. Access the required incoming passenger forms here. 
Travel Costs

All arriving passengers are required to cover any related travel and quarantine expenses. Non-nationals must have travel insurance covering COVID-19 or declare that they will cover the cost of treatment and isolation.
Grenada COVID-19 Entry Guidelines: Quarantine Requirements

Upon arrival in Grenada, all travellers will undergo a health screening (symptom review, temperature check and, if necessary, testing). Travellers arriving from the CARICOM bubble (Antigua & Barbuda, Barbados, Dominica, Grenada, Montserrat, St. Kitts & Nevis, St. Lucia, St. Vincent & the Grenadines) or low risk countries (review list of low-risk countries) will not be required to quarantine unless deemed necessary by health officials. All other travellers will have to spend a minimum of five (5) days in quarantine at a government-approved accommodation location.

After four (4) days in quarantine, travellers will be required to take a PCR test before leaving their accommodation and entering the community. Read more about the quarantine policy here.
What To Expect In Grenada
Once in Grenada, you will need to follow the COVID-19 regulations. Failure to comply with these regulations may result in fines.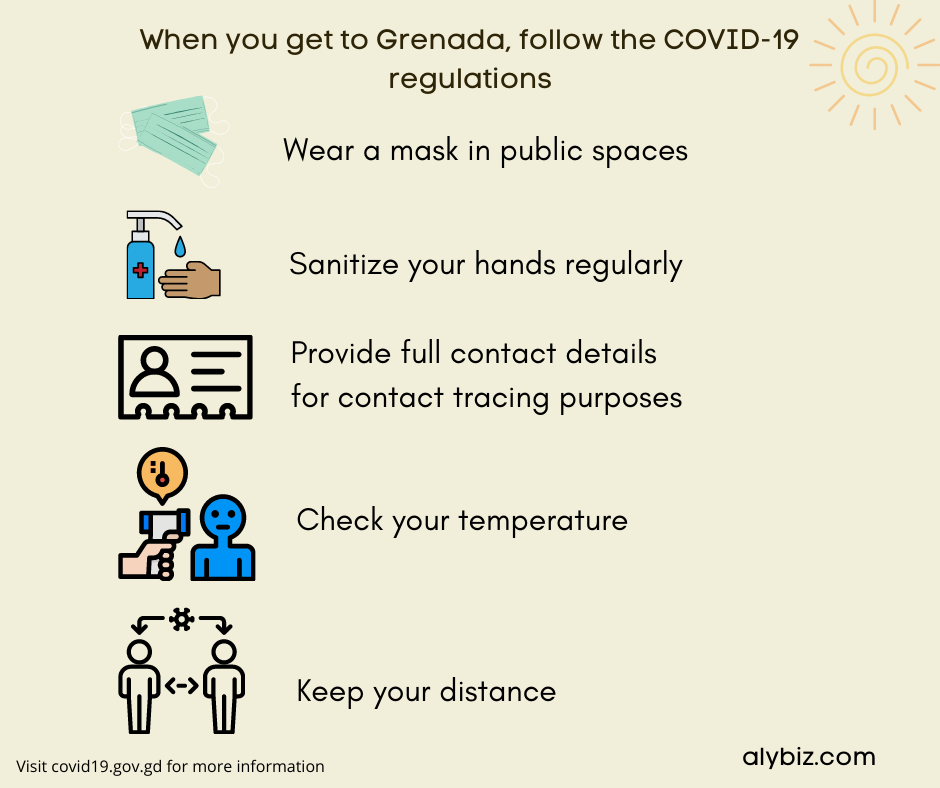 Masks

Masks or appropriate face coverings are required in all places of business such as banks, retail stores, restaurants, and on public transportation.
Sanitization

You will be required to wash or sanitize your hands before entering business places.
Contact Tracing Information

Restaurants and some office buildings require full contact information (name, address and telephone number) for contact tracing purposes before you can enter the premises.
Temperature Checks

You will be required to check your temperature before entering restaurants and some office buildings.
Physical Distancing

You will be expected to maintain physical distancing by observing the posted signs and markers when in places of business.

For the full Grenada COVID-19 entry guidelines and information, please visit the Ministry of Health's website or Facebook page. You can also read the Grenada Tourism Authority's travel advisory.
(Visited 1,083 times, 1 visits today)