Even though Old Town Alexandria is just a stone's throw away from Washington, DC, I had never ventured across the Potomac River to Old Town to explore its cobblestone streets. This past August, though, since I was already in Alexandria, I grabbed my gear and set out on an art walk through Old Town.

Alexandria, Virginia, founded in 1749, is steeped in history. Alexandria was one of the ten busiest ports in America, serving as a port of entry for foreign vessels, major export center for flour and hemp, and home to the largest slave-trading firm in the country.

Unlike other places around the world that have been unable to preserve historic buildings, walking through Old Town is like walking backwards in time. Boundary Stones, a history blog about Washington, DC, suburban Maryland and northern Virginia, describes a walk through Old Town as a "stroll through Colonial America. The cobblestone streets, brick houses, and various shops and pubs all combine to transport visitors to quaint, rustic, 18th century United States."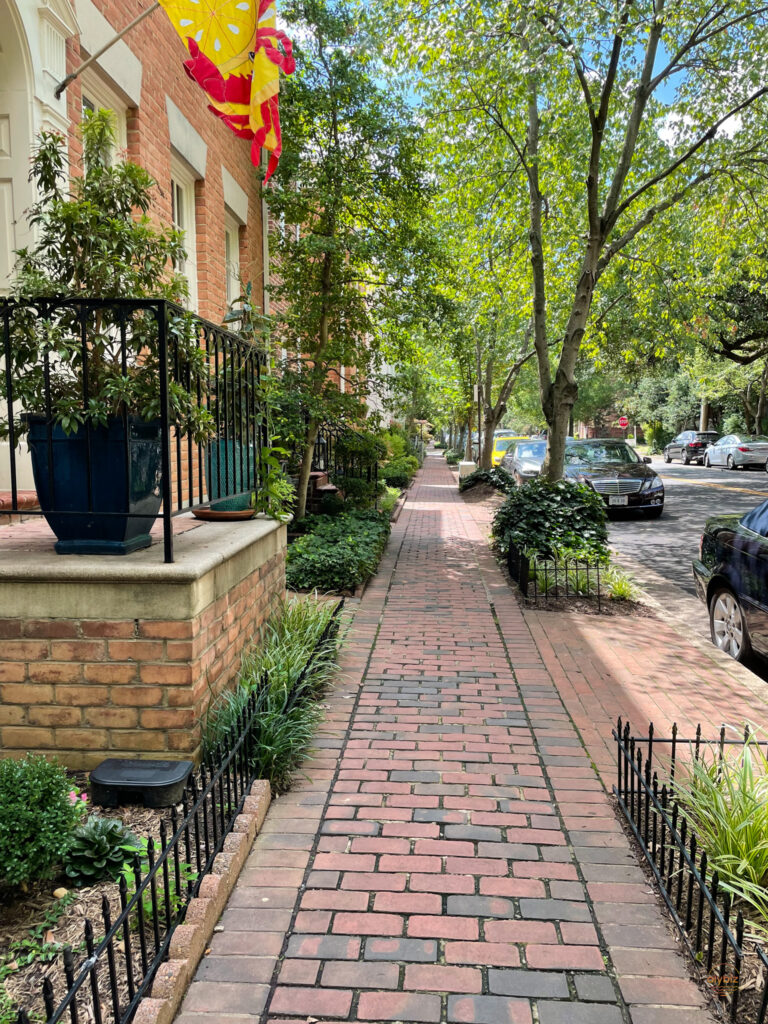 Let's go on a walk!

Whenever I'm in a new place, I like to go walking, either by myself or on a tour. Great way to get in those steps and see the things that you might miss being in a vehicle.

The Alexandria Visitor Center has several curated walking routes, such as the Self-Guided Architecture Stroll, Waterfront Walk, Duke Street Black History and the one I chose, Old Town Art Photo Walk.
Old Town Art Photo Walk

This Old Town art walk features 7 murals and art installations around Old Town. Even though the route guide had the names of the art, I chose not to google any of them before hand. That might have been useful for some of them, which you'll find out soon. Ok, let's go!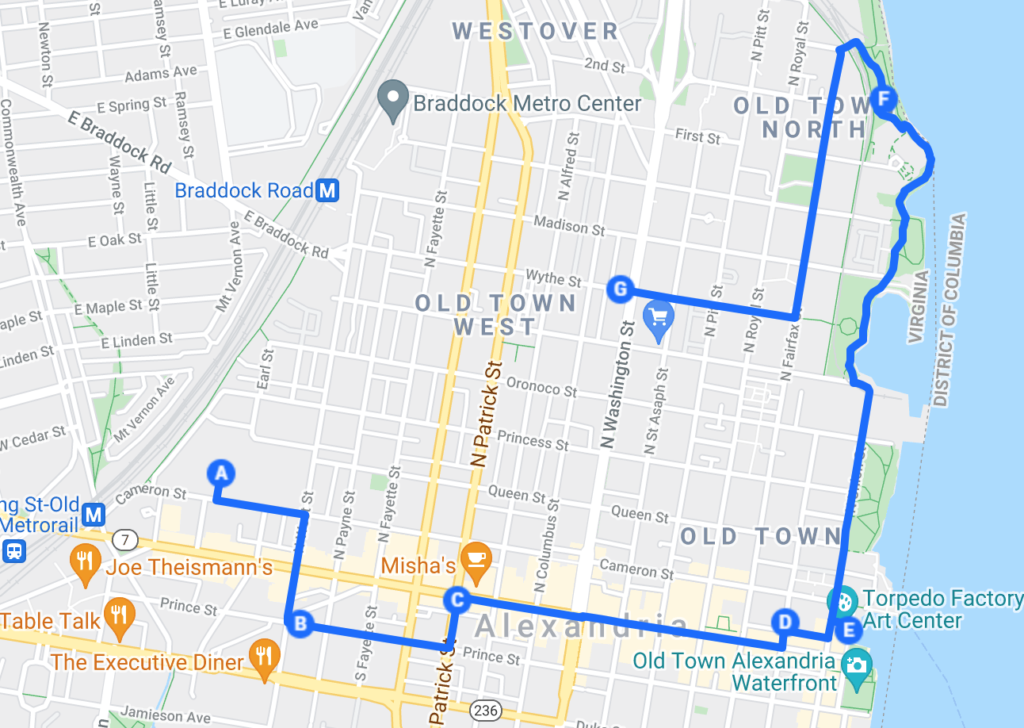 Wrought, Knit, Labors, Legacies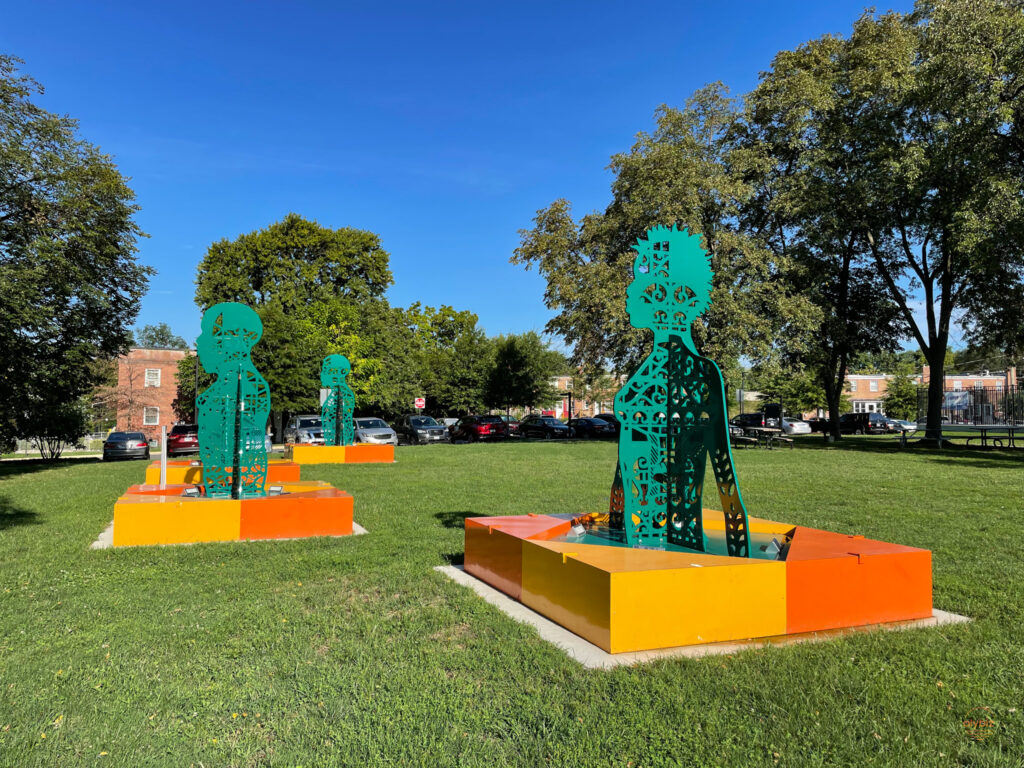 Wrought, Knit, Labors, Legacies is the first installation on Old Town's art walk. Created by Olalekan Jeyifous, this installation frames Alexandria's African American history through the lens of the city's merchant and manufacturing industries of the 17th to 20th centuries.

Wrought, Knit, Labors, Legacies was first displayed at the Waterfront Park for Site See — an annual display of temporary public-art installations — before it was moved to its current location, not too far from Freedom House Museum.
Fibre Girl Mural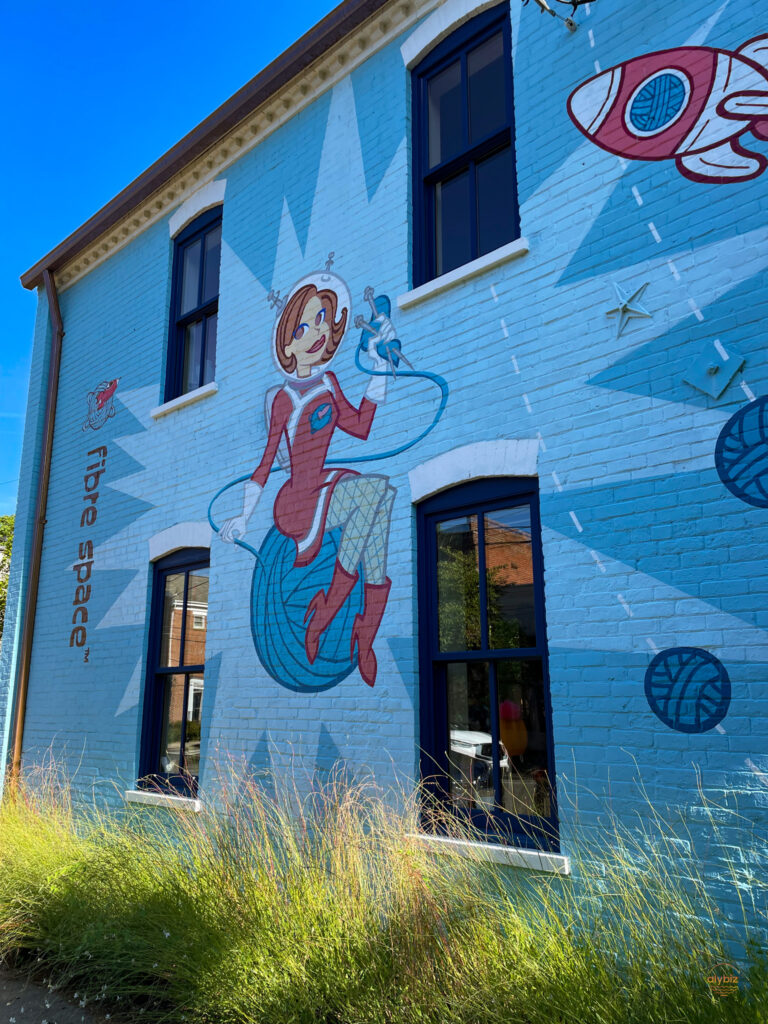 The Fibre Girl mural, found on the side of the Fibre Space building on Prince Street, was painted by Alexandria-based artist Matt McCullen. Fibre Space is a yarn universe, full of high quality, natural and unique materials. Fibre Girl is Fibre Space's original mascot and was added to the building in celebration of the store's 10th anniversary in 2019.
Alexandria's Social Butterfly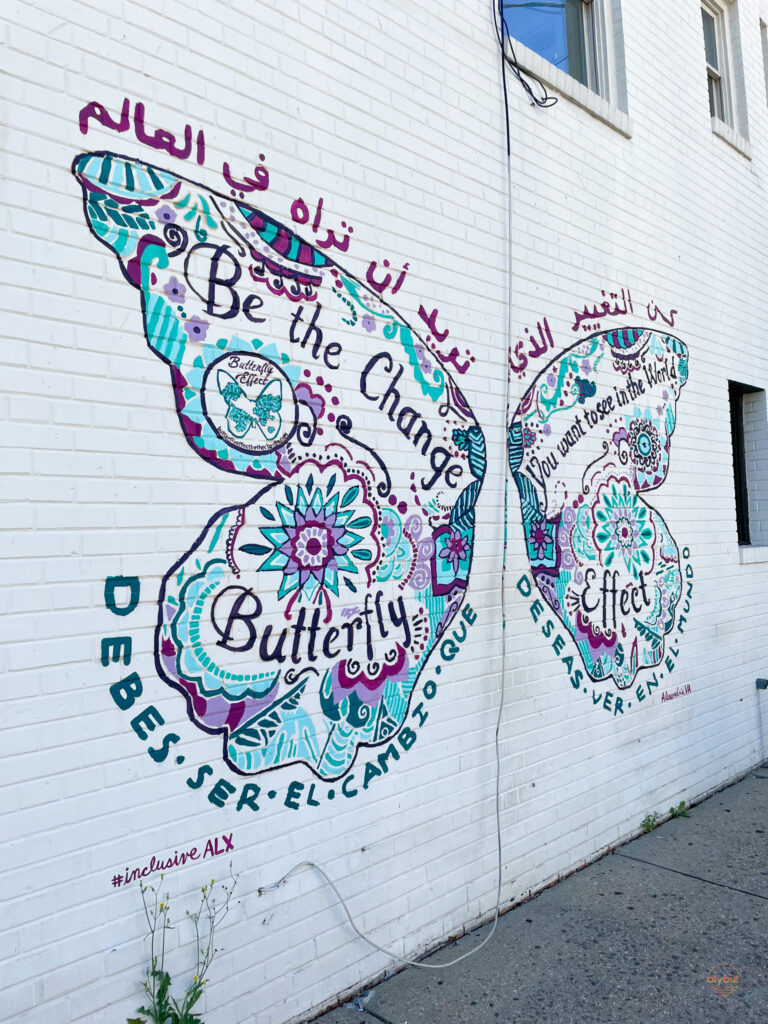 In 2013, artist and entrepreneur Tasha Wahl founded The Butterfly Effect, a micro-philanthropy movement whose mission is to "promote contagious generosity through interactive art in communities all over the world." The Social Butterfly art installations, like this one in Alexandria, aren't just pretty to look at it. People who take their picture with one of the social butterflies can make a donation to a non-profit organization by submitting their photos via text message.

To bring the Social Butterfly to Old Town, Alexandria's Vice Mayor Elizabeth Bennet-Parker worked with Wahl to create an installation that represented Alexandria's diversity. And so, Alexandria's social butterfly features the phrase "be the change you want to see in the world" in English, Spanish and Arabic.
Rainbow Mural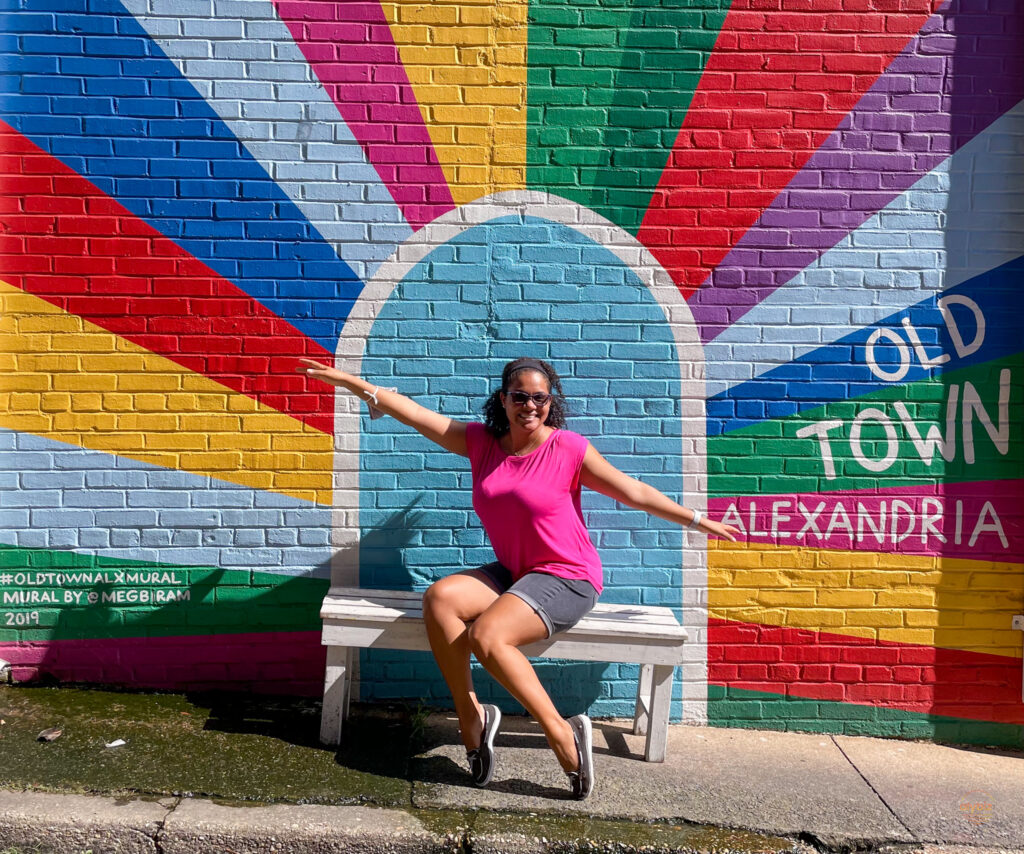 The Old Town Boutique District spearheaded the fundraising efforts for the rainbow mural painted by Alexandria-based artist Meg Biram. According to a statement from the Old Town Boutique District, the "colorful design is meant to reflect the uniqueness and inclusiveness of Old Town."
Beaded Curtain Mural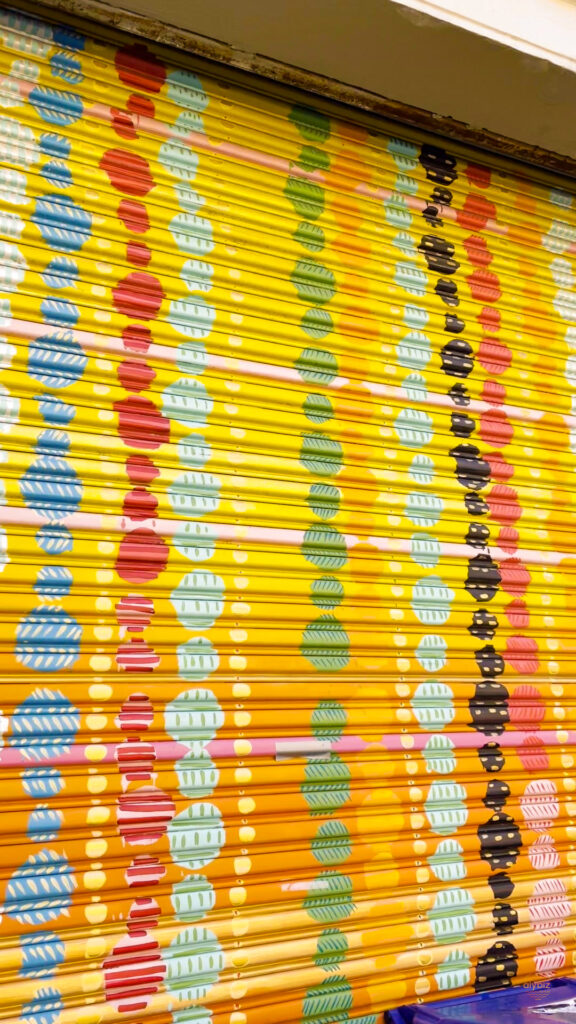 Please accept my apology for not having the best photo of the beaded curtain mural. Of all the murals and installations on this Old Town Art Walk, this one caught me by surprise. Even though the description said so, I guess I didn't fully believe that the mural was painted on the door of the loading dock. I also wasn't expecting a line of trash bins to be in front of it either. So this is a screen grab from one of the videos of my Reel.

Nevertheless, this mural, painted by Erin Elizabeth Curtis, is stunning in person. And, the Torpedo Factory Art Center where it's located is vibes. The Torpedo Factory is a former naval munitions plant that built torpedos for World War II. Now, it is home to the nation's largest number of publicly accessible artists' studios under one roof.
Promenade Classique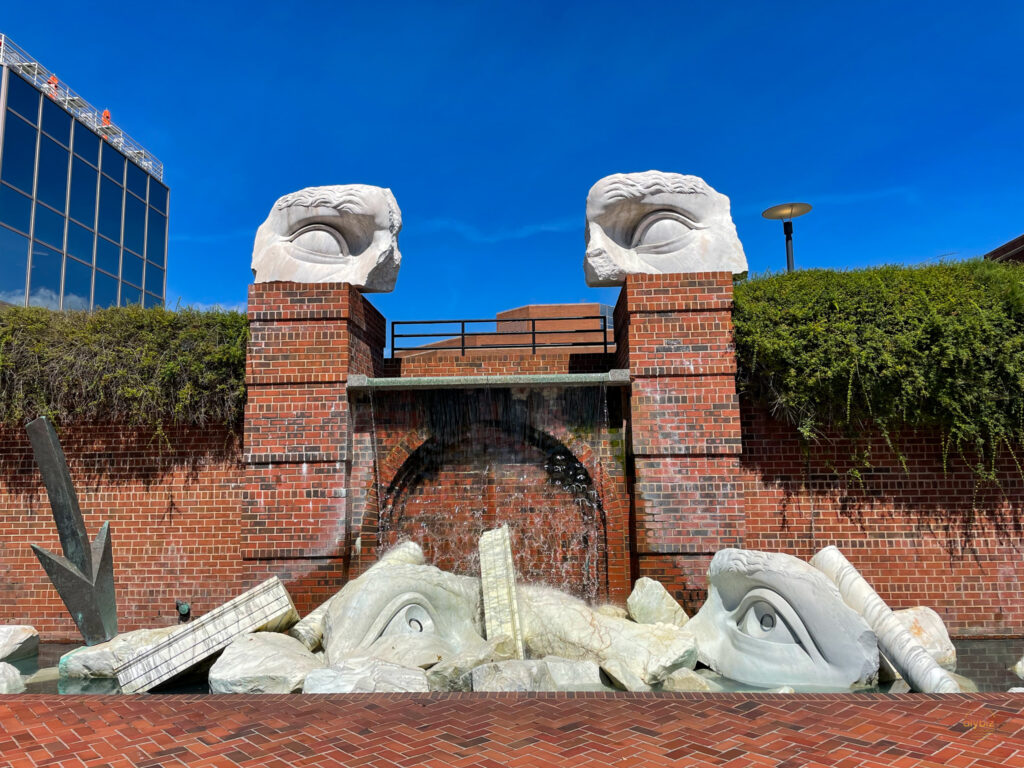 Promenade Classique is a sculpture and water installation created by renowned French sculpture artists Anne and Patrick Poirier. Located north of the canal lock in Tide Lock Park, Promenade Classique features "succession of neoclassical sculptural elements, starting with a bronze lightning bolt, which, except in winter, launches the flow of water. From there, the water makes its way past gargantuan sculptural fragments, through a reflecting pool and into a heap of "ruins" under a waterfall at the river's edge."

I knew that Promenade Classique was a sculpture, but I didn't think it was going to be an entire sculpture garden. Unfortunately, the water was off at the top part of the installation, so I couldn't see it in all its glory. Still impressive though.
Come Together Mural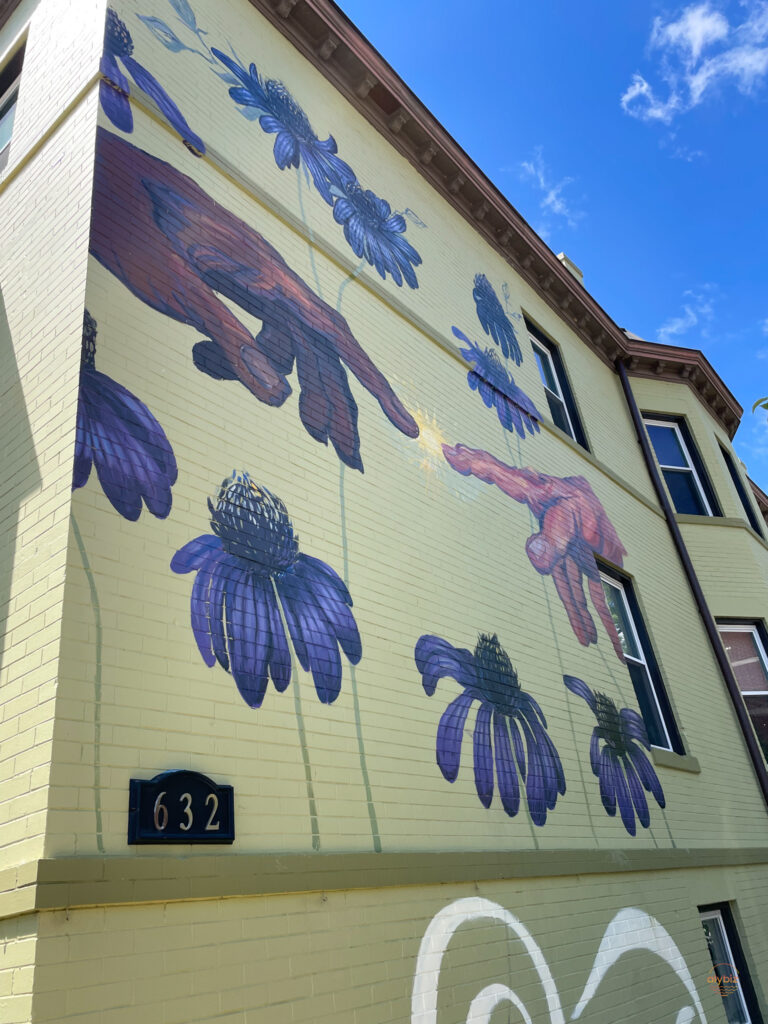 The final mural on the Old Town Art Photo Walk is the Come Together mural. Painted in July 2020 by art students Shelby Bavin and Caroline Mitchell, Come Together is their take on Michelango's 'Creation of Adam' and a way to show their support for the Black Lives Matter movement through their art. According to the artists, "the mural stands as a symbol of unification in our community, which is incredibly important in times of uncertainty."
Honorable Mention
ESP Tea & Coffee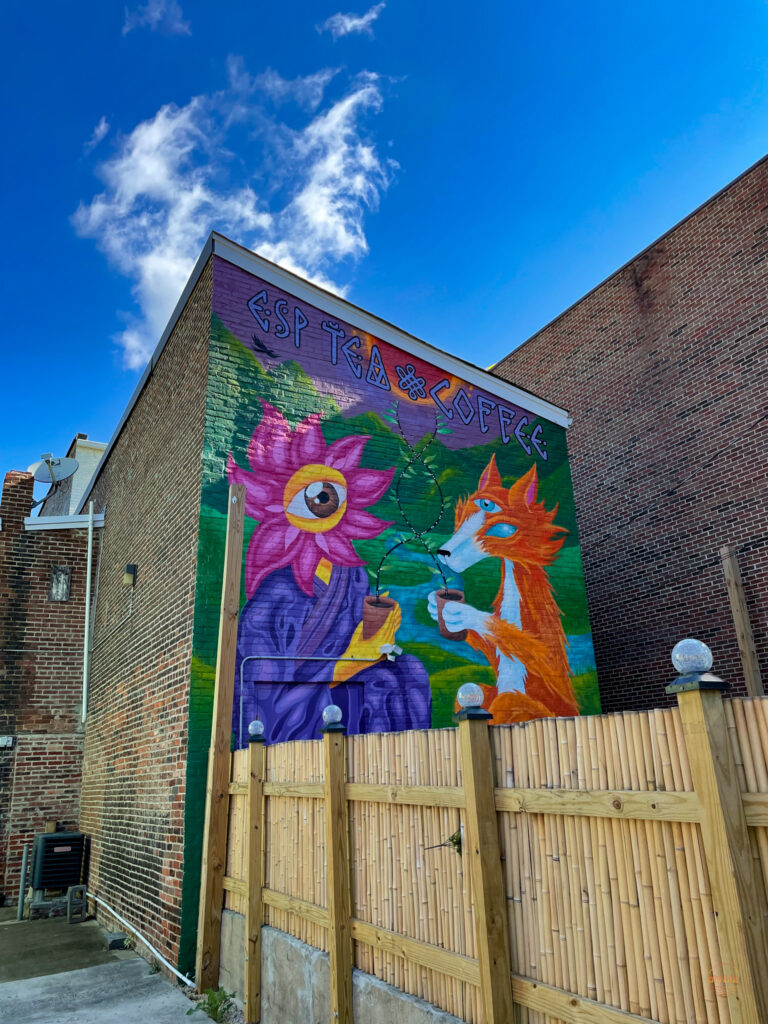 This mural, found at the back of the ESP Tea & Coffee building, isn't on the Old Town Art Photo Walk list, but it was just too pretty not to be included. The mural, painted by Zen Xaria, features ESP's flower logo.


While I thoroughly enjoyed my art expedition in Old Town, I might have enjoyed it more if it wasn't so hot. Note to self: do not go on a walking tour in 97 degree weather without a hat. Also, wear better shoes.

Luckily, there's no shortage of cute cafes and shops around Old Town to pop in for a little break.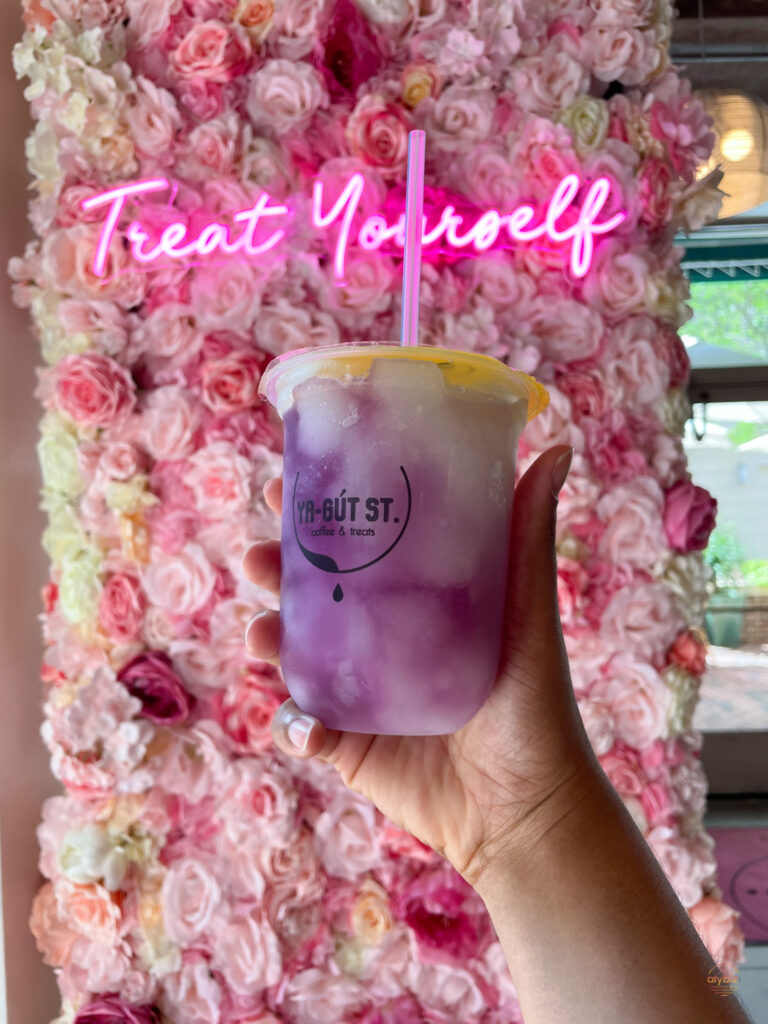 (Visited 763 times, 3 visits today)