Happy Caribbean Literature Day!

Take a moment right now to think about Caribbean literature.

What comes to mind?

Did you think of the titles we read in school like A Cow Called Boy and The Cloud With the Silver Lining, A Brighter Sun or The Schoolmaster?

Or did you think of renowned Caribbean authors such as Naipaul, Lamming, Collins, Selvon and Lovelace?

Did you think of mystery and romance? Sci-fi, fantasy and the supernatural?

How many Caribbean books have you read?

Even though I consider myself an avid reader, and I have read many, many books, those written by Caribbean authors occupied a tiny space on my reading lists.

Unacceptable, Alyssa. Unacceptable.

Read Caribbean

With reading already part of my my wind-down/night time routine, I decided to switch things up for my 2021 reading goal. This year, it's all about Read Caribbean.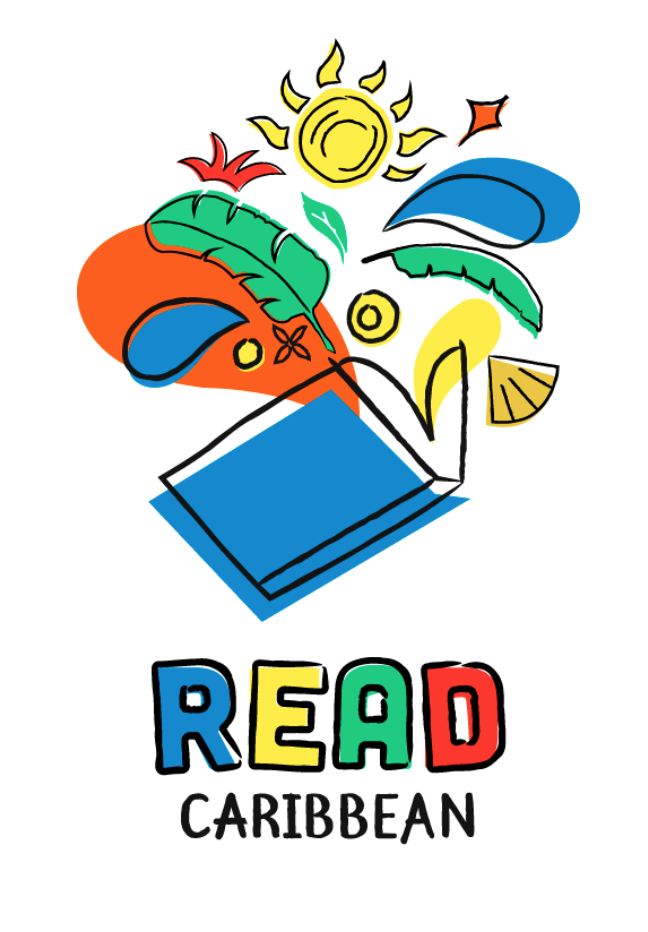 Inspired by Jamaican blogger Cindy, aka Book of Cinz, whose mission is to encourage people to read, read more, read widely and read Caribbean, my goal was to read at least 2 Caribbean books, i.e. books written by Caribbean authors or set in Caribbean countries, a month.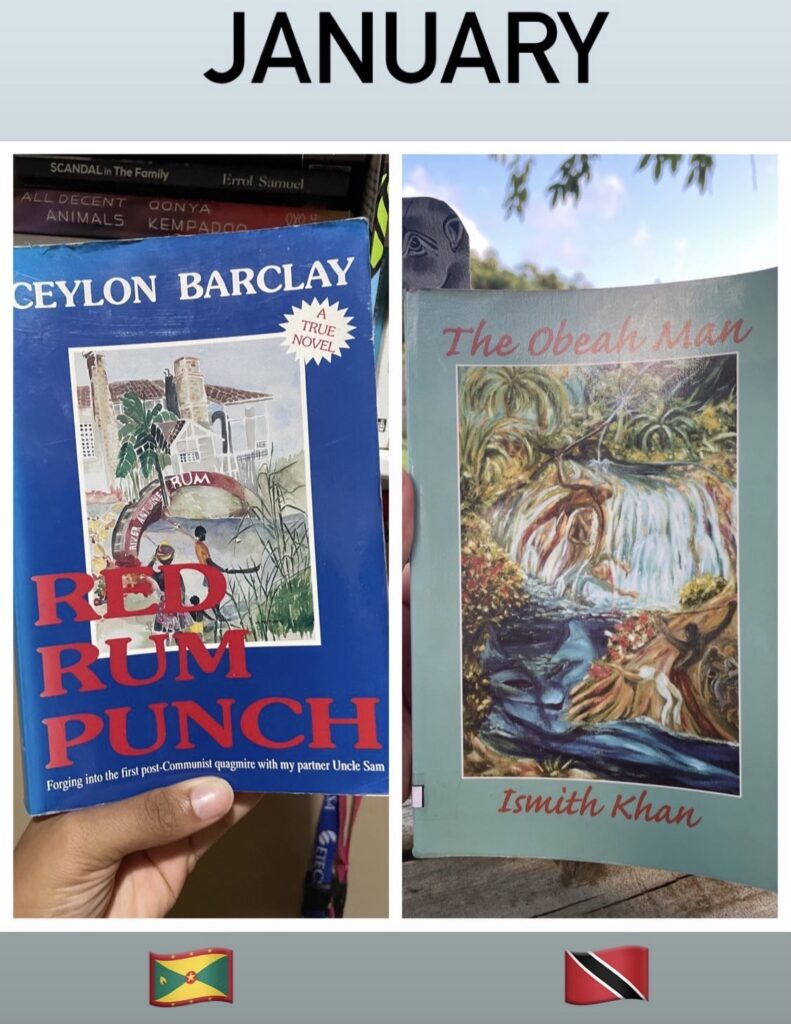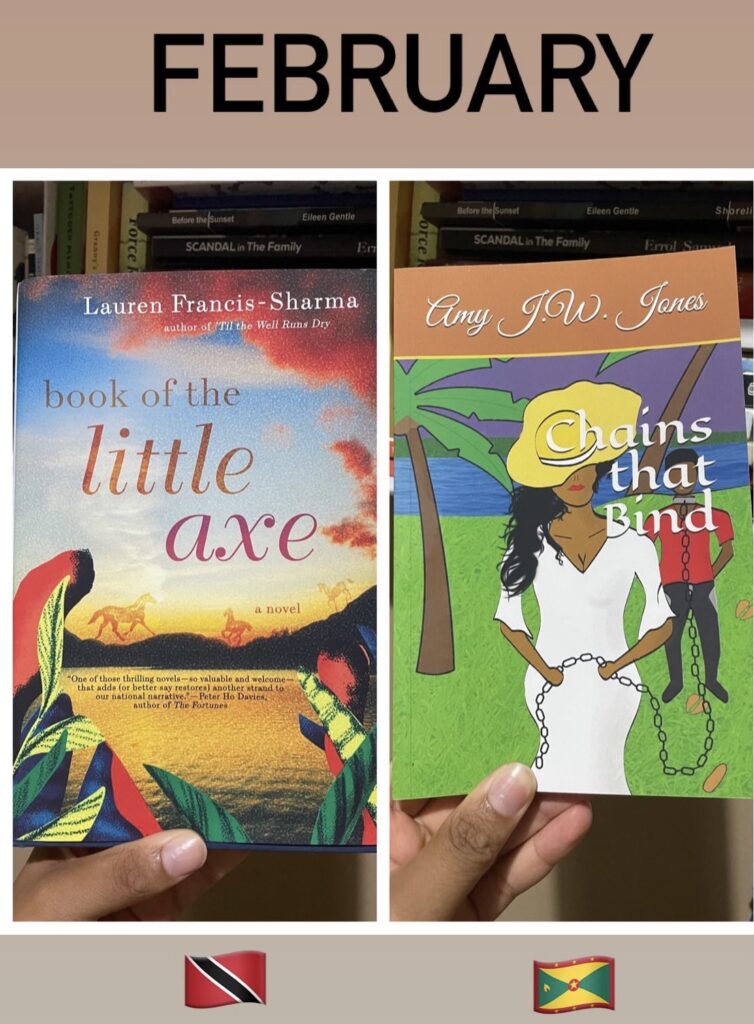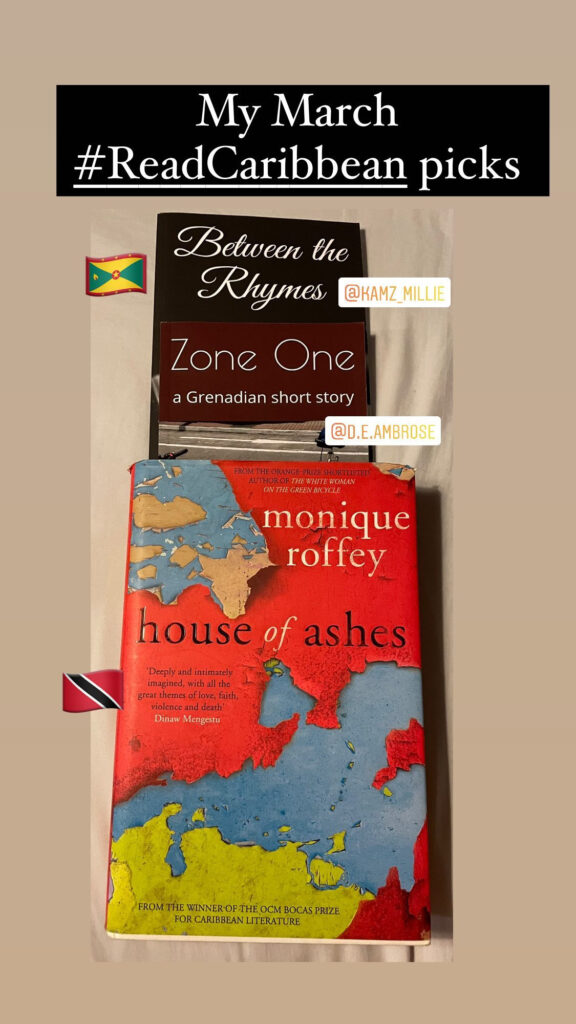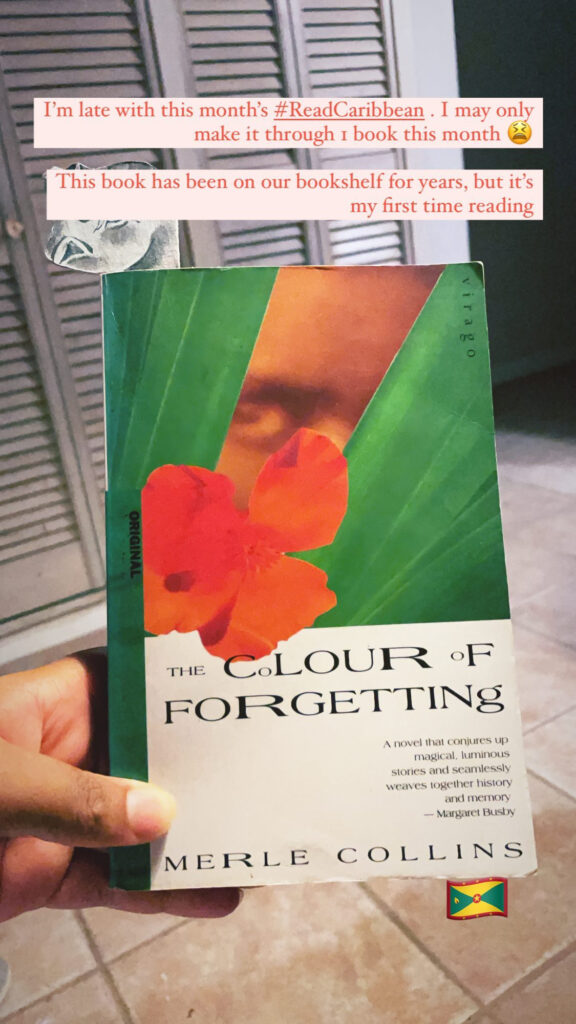 I fell off track in May, but then came Read Caribbean Month, I mean June.

Cindy started Read Caribbean Month in June 2019 to create awareness for Caribbean literature, Caribbean authors and authors of Caribbean heritage. According to Cindy, "there needs to be a space for Caribbean Writers and Literature because our voice is so uniquely ours." Yes!

This year, Read Caribbean Month featured author panels, Instagram lives with authors and bookstagrammers, and a reading challenge full of Instagram post prompts.
My Read Caribbean Month

To be honest, I thought of sticking to reading two books like I had been doing all year. But then I saw this Read Caribbean template by @danzibooks.  I couldn't just read 2 books for Read Caribbean Month. So I read 8.

Let me tell you how that went.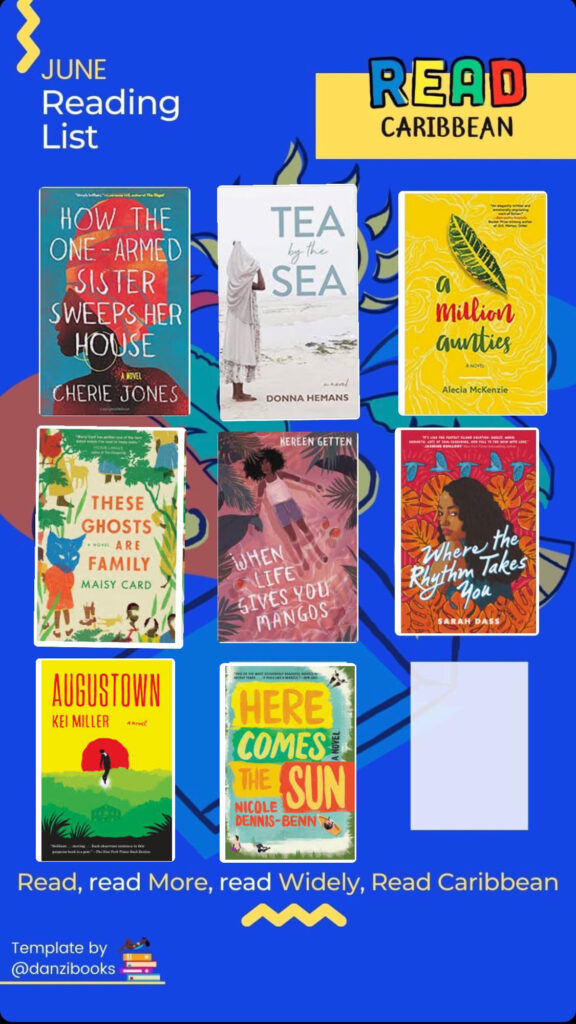 Up first, let's go to Barbados.

How the One Armed Sister Sweeps Her House – Cheri Jones
How the One-Armed Sister Sweeps Her House is the debut novel from Barbadian author Cherie Jones. Set in Barbados in the 1980s, it tells the story of Lala, a young mother and wife, and her connection to a series of unfortunate, and tragic, events.

I thoroughly enjoyed this book. Jones took me through so many emotions: I cried, I laughed, I got angry, I steupsed. And when it finished, I exclaimed, "just so it done?!"
Next, Jamaica.
In the same way that How the One-Armed Sister Sweeps Her House took me on an emotional rollercoaster, Tea by the Sea had me feeling all the feelings. This is the second novel from Jamaican author Donna Hemans. Following the lives of the main characters Plum and Lenworth, Tea by the Sea tells a story of how the decisions we make in the best interest of others don't always end up that way. I enjoyed this read, but the ending caught me by surprise. Another "wait, it done?" moment.

A Million Aunties – Alecia McKenzie
A quick and easy read, A Million Aunties is set in rural Jamaica, New York and Paris, and offers a different perspective on family. What I liked the most about this book was how the main events of the story unfolded from the points of view of different characters.

These Ghosts Are Family – Maisy Card
I really wanted to love this book. I was intrigued by the book's description: "Stanford Solomon has a shocking, thirty-year-old secret. And it's about to change the lives of everyone around him. Stanford Solomon is actually Abel Paisley, a man who faked his own death and stole the identity of his best friend."

Except the story wasn't about Abel Paisley; it was about his descendants and ancestors, and I got all the characters confused. The concept is interesting, so I think I will give These Ghosts Are Family another try.

When Life Gives You Mangoes – Kereen Getten
When Life Gives You Mangoes is a middle grade book and the debut novel from Jamaican author Kereen Getten. While I don't often read books for tweens, I'm so glad I read this one. This is the book I wish we had read in Form 2 instead of Annie John. It is a beautiful story of friendship, family and community.
Moving on to Tobago

Where the Rhythm Takes You – Sarah Dass
Whenever I'm looking for a light, easy read, I pick up a YA (young adult) novel. And this debut novel from Tobagonian author Sarah Dass was no exception. Where the Rhythm Takes You is a story of first loves and second chances and Dass captured the intricacies, awkwardness especially included, of being a teenager in love for the first time magnificently.
Ok, back to Jamaica
I think I need to give this book a second chance. It's about a flying preacher and Rastafarianism and families and for most of the book I wasn't sure where we were headed. But, Kei Miller's writing is enchanting and I definitely want to read more of his work.

Here Comes the Sun – Nicole Y. Dennis-Benn
Love and family relationships. Female relationships. Dreams and aspirations. Power and authority. If you did English B (Literature) for CXC, then these themes might be familiar to you. And if they are, just know that if you ever had write one of those essays again, Here Comes the Sun would be the perfect choice. So many themes, so many issues and I thought Dennis-Benn did an excellent job in conveying them to the reader without being overbearing.
Final thoughts

I'm happy I didn't just stick to 2 books for Read Caribbean Month. I don't think 8 titles in a month is sustainable, though. I felt like I was racing through them and I didn't give myself the chance to truly enjoy the experience of reading. It also was not my intention to read so many Jamaican titles, but they were what I had access to at the time. The good thing is that Read Caribbean isn't just for a month. We're reading Caribbean all year round over here!

If you've been sleeping on reading Caribbean, then it's time to wake up! Caribbean literature is diverse, dynamic and worth every bit of our attention.

Get started on your Read Caribbean journey by checking out these 2021 Read Caribbean releases. If you're in Grenada visit the Grenada Community Library on Lucas Street and borrow a book or several from the West Indian collection. Then, stop by one of the pop-up book sales hosted by the Grenadian Published Authors' Association to support local and Read Grenadian!

What's your favourite Caribbean book? Let me know in the comments!


(Visited 411 times, 1 visits today)