2021 update!

On August 5th 2021 Grenada's Kirani James cemented his place in Olympic history, becoming the first man to medal in 3 consecutive Olympic 400m finals.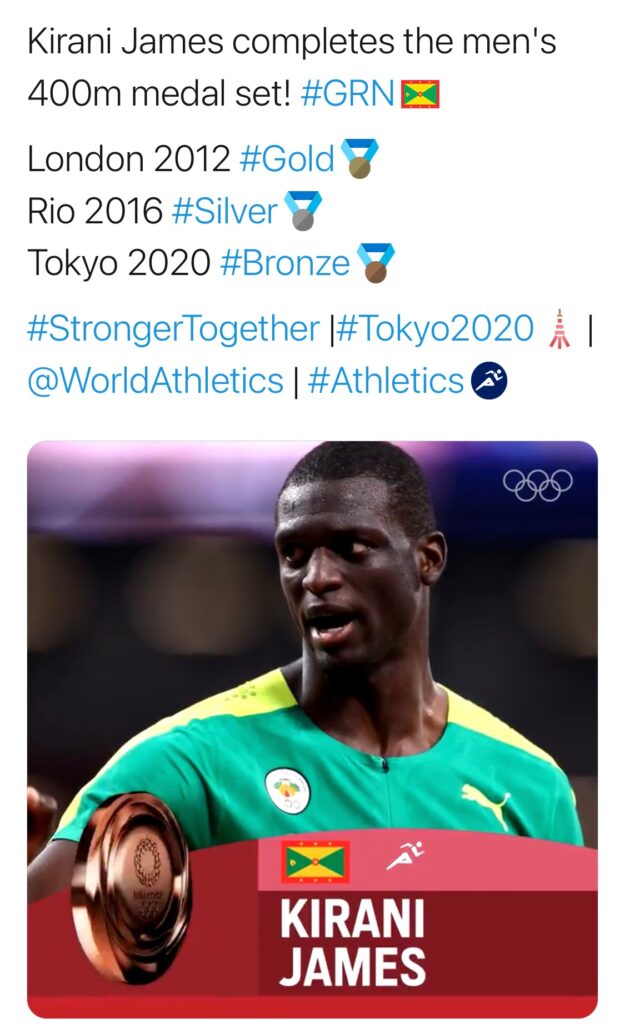 ~~~~~~~~~~~~~~~~~~~~~~~~~~~

On August 6th 2012 Kirani James, a young athlete from Gouyave, Grenada, made history. He became the first Grenadian to win a medal at the Olympic Games. Not only did Kirani win a medal, he won GOLD. 

When I woke up this morning I was nervous. You'd think I was the one who was competing. I got to work and all I could think about was how 4:30pm was taking so long to reach. Decked out in my red, yellow and green I was proud of the entire Grenadian Olympic team, my country and Kirani.

I raced out of the office so I could make it home in time to watch the race. I got the live stream up and running and it was time to wait for the men's 400m final. I had to brace myself against the door frame before the race started. I couldn't handle it. I didn't want to watch. My heart was beating so fast I thought I was going to pass out…

SET! Focus Kirani… 

BANG! 

I'm sure the neighbours thought something was wrong with the rate I was screaming. I think I traumatized the dog. I couldn't hold back the tears by the time the race finished. Mom called me and she was screaming. We both were screaming. Then I remembered I needed to tweet!

My twitter timeline had already exploded by the time I opened my browser. Respect the Nutmeg, Kirani James and Grenada were everywhere. We were trending worldwide.


In case you're wondering where "Respect the Nutmeg" came from, that's all Esau Simpson's doing. He coined the term shortly before the Opening Ceremony, and after he won his heat in the 100m freestyle everyone knew they had to Respect the Nutmeg.

I'm so proud of Esau and Kirani and the entire Grenadian team. They've made our country so proud. I'm proud to be a Grenadian. Good luck to the athletes who still have to compete! We're still behind you.

So now, when they ask you where the champion come from, tell them in a Gouyave Town City!

(Visited 444 times, 1 visits today)