Sometime in 2008 I wrote an article (that was never published) about swimming in Grenada. The article focused on the development of the sport over the years and the swimmers who have continuously made our country proud. The article also emphasized that despite the need for a new facility, the swimmers have still been able to excel.

Even though I gave up on competitive swimming long before I wrote the article, I still had an interest in the sport. I volunteered for GASA (Grenada Amateur Swimming Association) whenever I could, and every Saturday for 5 years I was on the beach with my group of Angel Fish, the learn-to-swim group of the SJC Swim Club.

The article, Just Add Water, went something like this…

"…Swimmers from varying backgrounds have come together and made the best of it. For the past ten years Grenadian swimmers have represented our country proudly at the Sydney and Athens Olympic Games in 2000 and 2004, Short Course and Long Course World Championship Games in Manchester and Australia, in the Bahamas, Puerto Rico, El Salvador, the Dominican Republic, Jamaica, St. Lucia, Barbados, Trinidad, Aruba and most recently in India.

…For these swimmers, the sport is more than just a hobby; it is a way of life according to Esau Simpson, the 2008 OECS boys 15 and over champion who, when in training, "eats, sleeps and breathes chlorine". Sisters Sophia and Ayesha Noel, who have both been age category winners, can recall swimming since before they were able to walk properly, and Daryl Harford one of the older competitors, urges the younger swimmers to not lose sight of "the heart of the sport – the spirit of sportsmanship."

Swimmer Esau Simpson was really my inspiration for this piece. Not only is he an amazing swimmer, but his unwavering determination and dedication to the sport is something to be noted. I remember him always ready to motivate his teammates – his "brothers and sisters by chlorine."

Even with me, though I wasn't part of the team, he never hesitated to help me with my synchronized swimming and Cross Harbour training. My biggest supporter, so now I'm going to be his.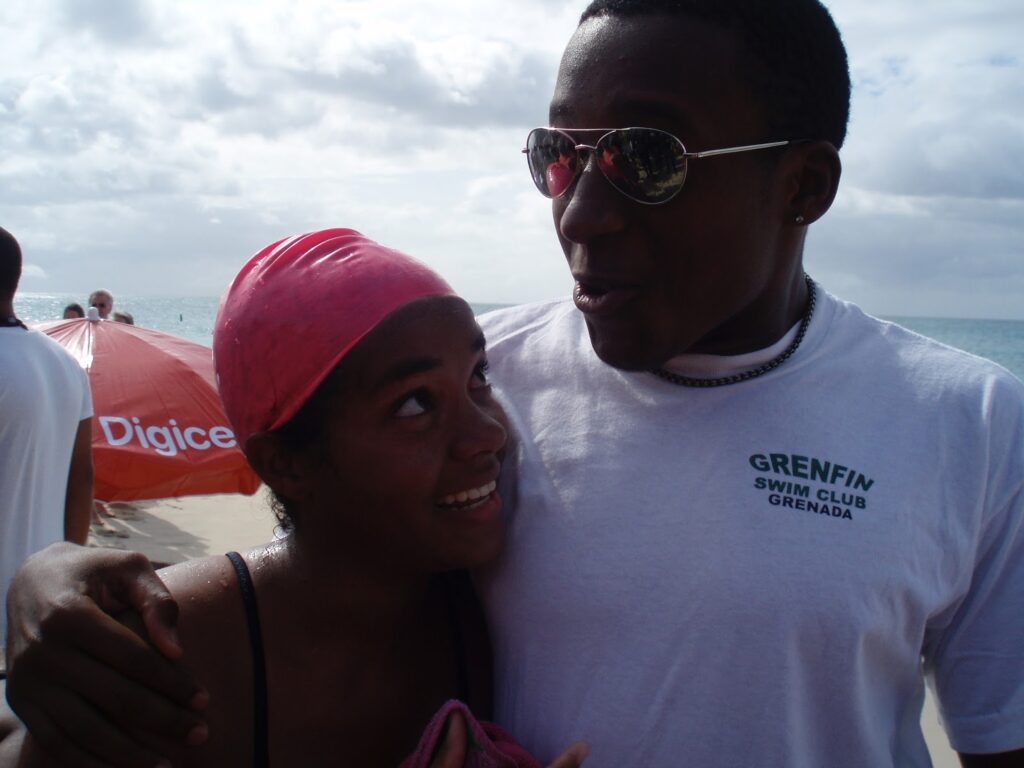 Since I wrote Just Add Water, Esau has represented Grenada in Rome and Shanghai and now he's headed to the Olympics. London 2012 here comes The V-Saw!!!! Esau will be competing in the 100m freestyle event with the opening heats scheduled for July 31st.

Esau travels tomorrow (June 11th) to join the rest of the Grenadian Olympic team in London for a training camp before the official start of the Games on July 27th. It would be remiss of me not to mention the names of the other Grenadian athletes who will be representing our country proudly in 17 days: Rondell Bartholomew, Trish Bartholomew, Neisha Bernard-Thomas, Kevin Bowen, Kurt Felix, Kirani James, Stefon John, Randy Lewis, Andon Mitchell, Andrea St. Bernard, Patricia Sylvester, Janelle Redhead, Joel Redhead and Kanica Beckles.  Good luck team! You've got an entire island and then some already incredibly proud of you.

Grenada to the world! Now where's my flag?
(Visited 312 times, 1 visits today)