"Come on Frankie!" George shouted. "We're going to be late for the Monster Mash Bash."

"Let's go this way. It's shorter!" Frankie said, pointing down a dark road. "We'll get to the party in no time if we go this way."

"I don't know Frankie," George hesitated. "That road doesn't look safe."

"What are you scared of? Spiders? Let's goooo!" Frankie laughed and took off running down the road. And George, the ever cautious friend, reluctantly followed.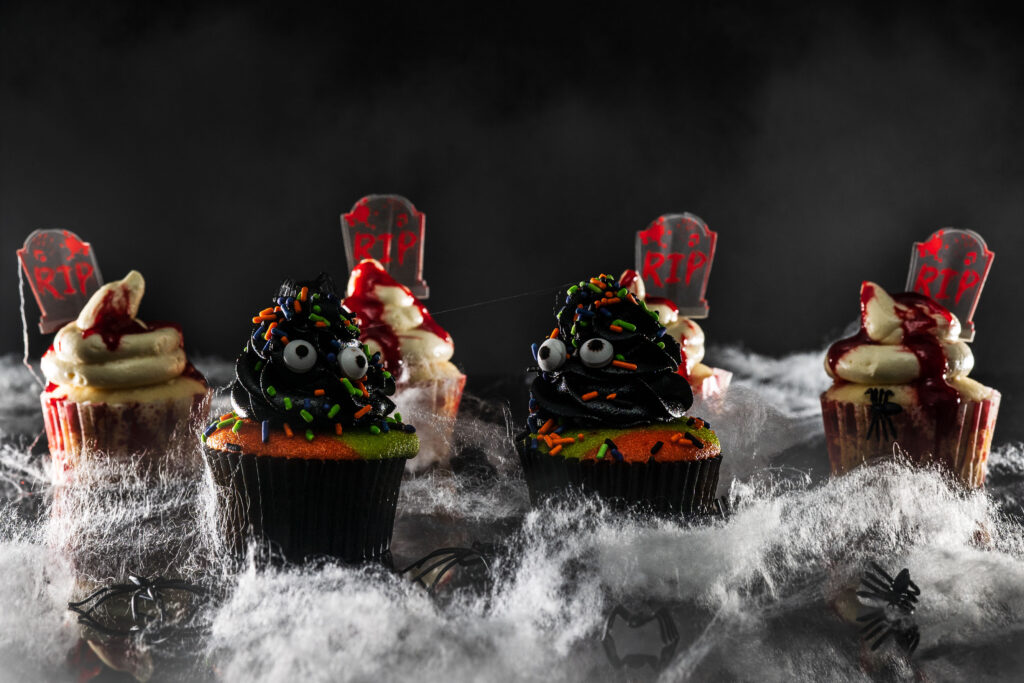 "Uhh, George?" Frankie whispered.

"What Frankie?" grumbled George.

"I guess you were right."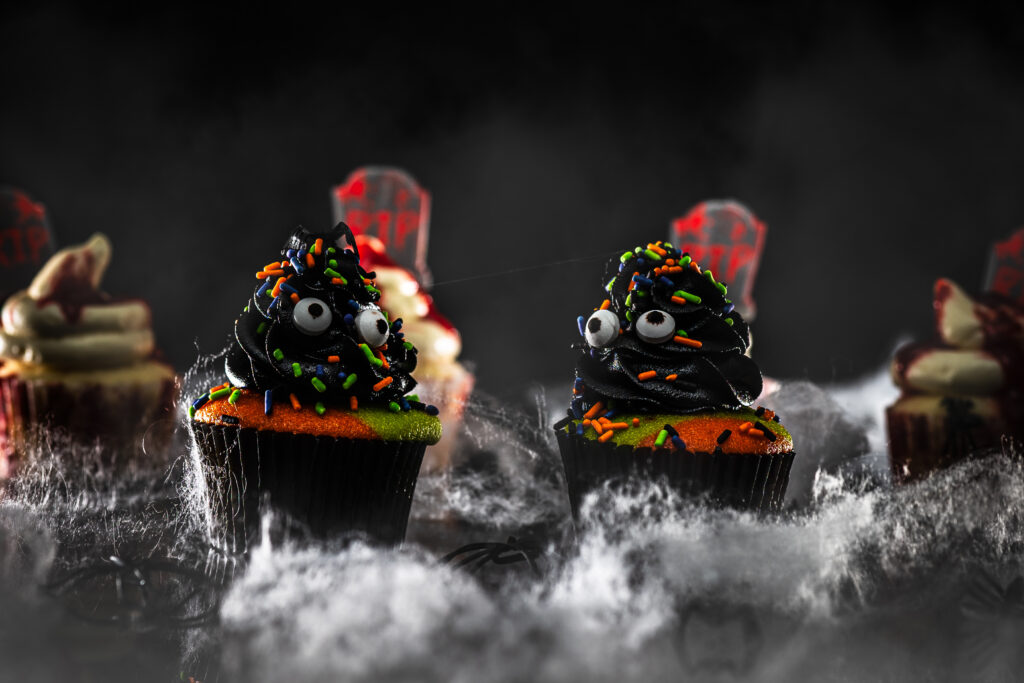 I love Halloween. Not necessarily the scary things, but the fantasy, imagination and creativity on full display. I love seeing the venue transformations and, even though I abhor horror movies, I won't say no to a good haunted house or forest.

Since trick or treating with my nieces isn't happening again this year, and going to a Halloween party (even with masked ghouls) is highly unlikely, I figured a Halloween Cupcake Project would be the best way to enjoy some Halloween creativity.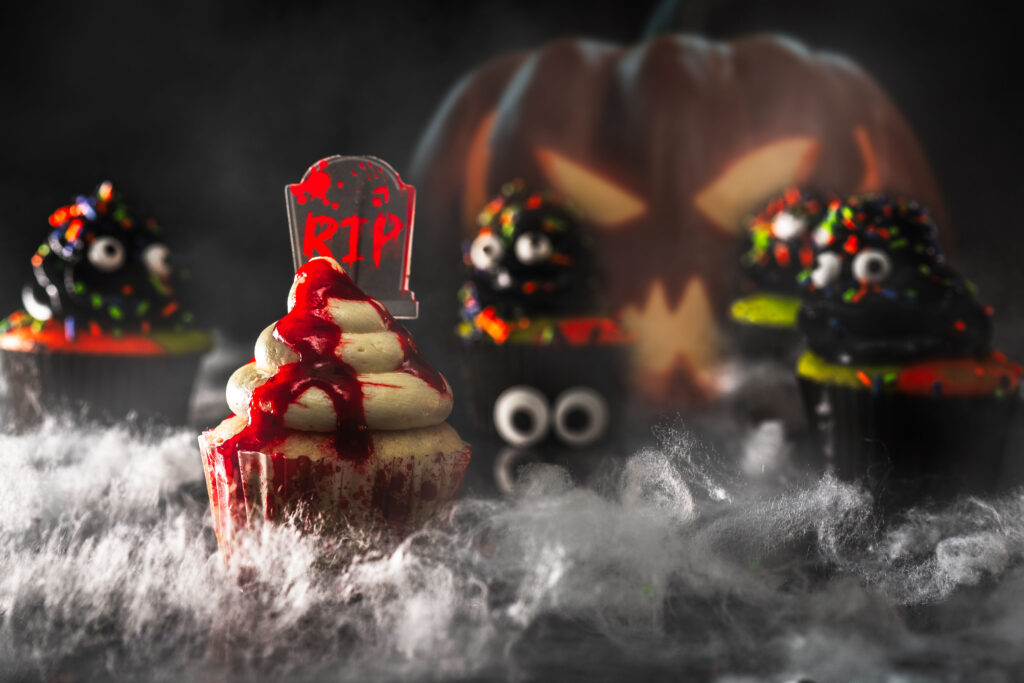 I got the inspiration for these cupcakes from blogger Chelsweets. I had been eying her Halloween cupcakes for a while, but only now committed to trying them out.
Ok, let's talk about these Halloween cupcakes.
It Was A Bloodbath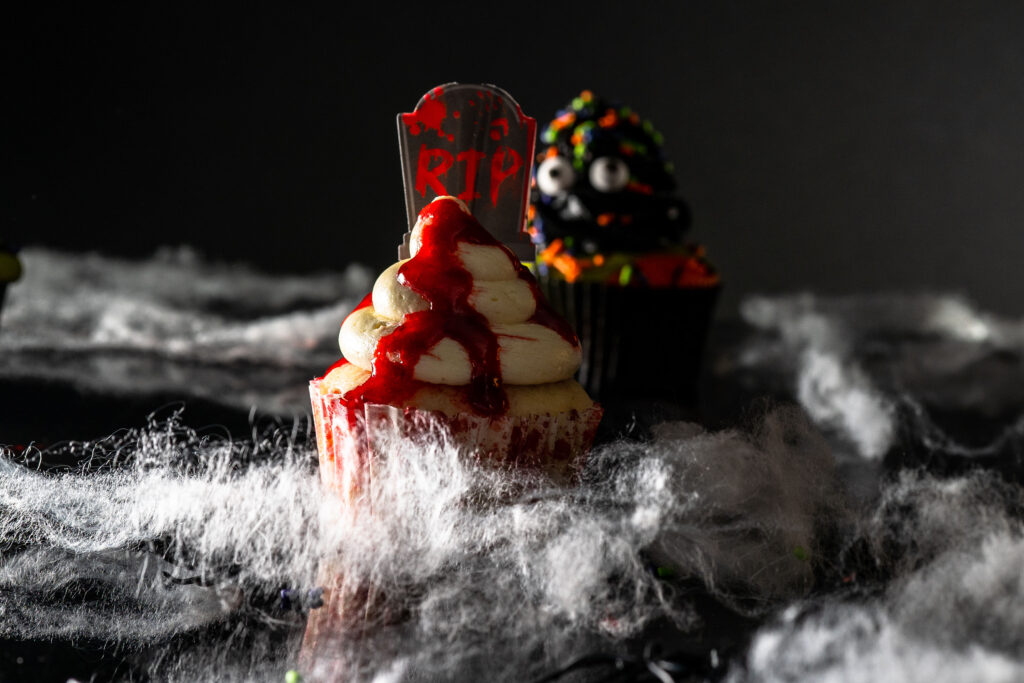 For the first of my Halloween cupcakes, my goal was to recreate Chelsweets' shattered glass cupcakes with glass shards sticking out the top. Except, my edible glass shards experiment was a flop. You see, in order to get the hardened sugar to look like a shard of glass, you need to heat the syrup to exactly 300°F before pouring into a pan to set. How do you know when your syrup is the right temperature? You need a candy thermometer and the one I ordered weeks ago still isn't in my possession at the time of this writing. Even though I knew that the chance of me getting this right without the candy thermometer was slim, it was still worth a try, right?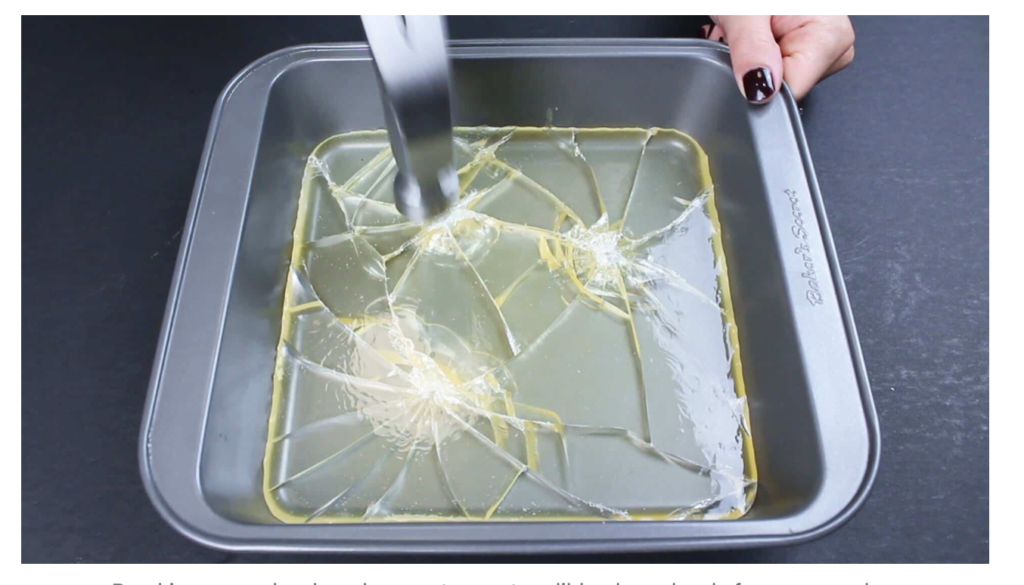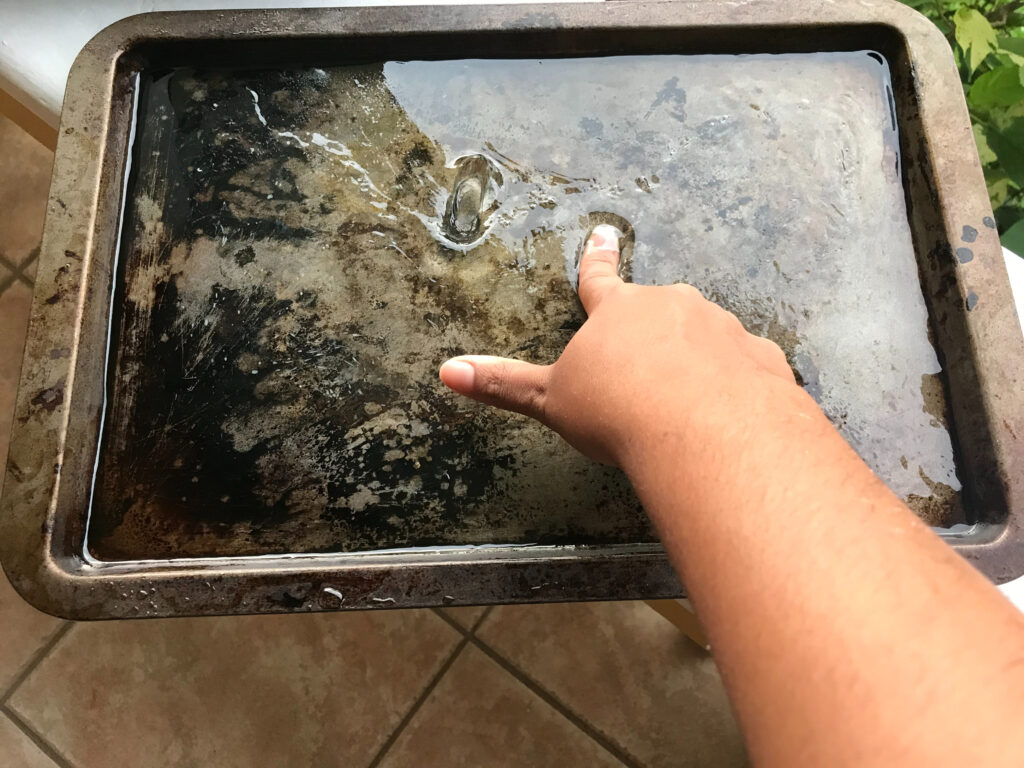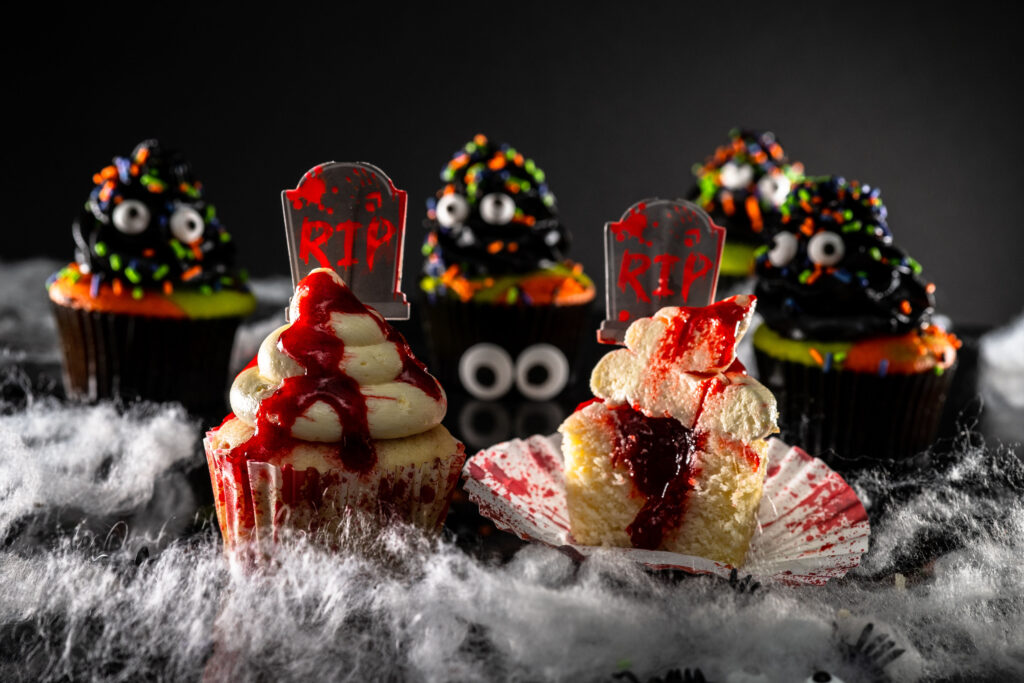 Monster Mash Bash

"They did the mash, they did the monster mash. The monster mash, it was a graveyard smash…"


While the lyrics to the Monster Mash are undeniably catchy, what I love the most is the Monster Mash colour scheme of purple, orange, green and black. I toyed with a few ideas for getting these colours together for my Monster Mash Bash cupcakes. I thought about using all the colours in an epic frosting swirl, but I'm still a little traumatized from my Magic of Carnival cupcake frosting mishap.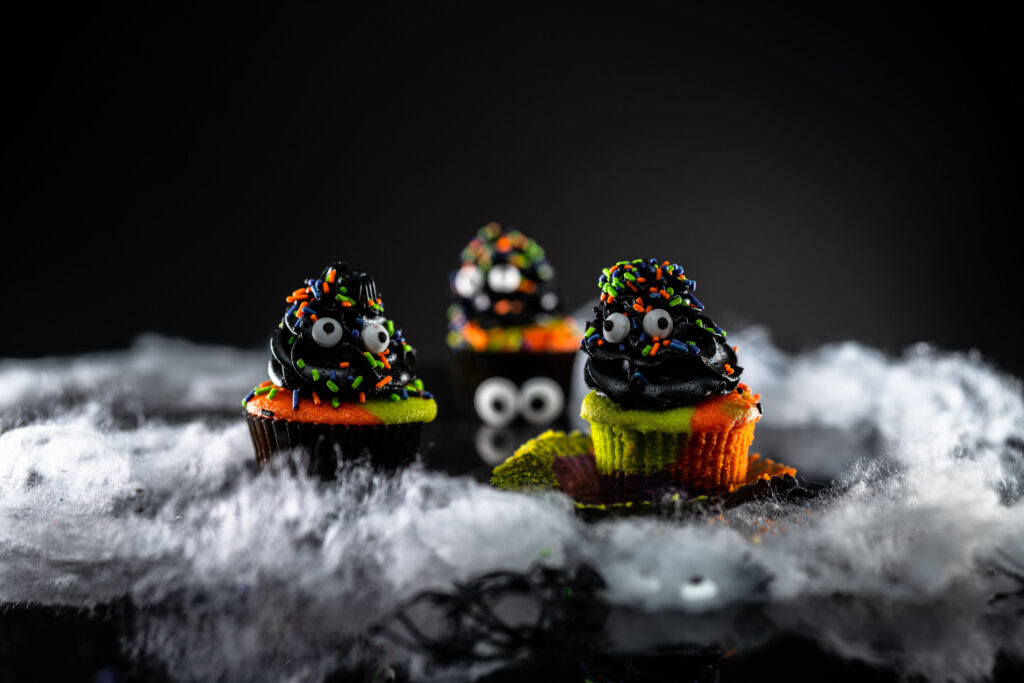 Finally, I settled on a tri-colour cupcake with black frosting. Now, I had only attempted black frosting one time before, and the resulting frosting was not black. The way to make black frosting without using an entire bottle of colouring is to start with a dark base. Black cocoa is recommended, but since I didn't have black cocoa at the time, I used regular cocoa powder. I probably didn't use enough gel colour, because the frosting turned out grey instead of black.

This time though, I was prepared. Armed with black cocoa, black gel colouring and all of Chelsweets tips, I made my frosting 2 days in advance. I wasn't sure what to expect when I finished mixing the buttercream. I didn't think it would be black immediately, but I wasn't ready to see grey buttercream again. Since I knew the buttercream was supposed to darken over time, I wasn't too worried. So I put the buttercream in an airtight container, put it in the fridge and went about my business.
Two days later…

I took the buttercream out of the fridge ready to see my delicious, black buttercream. But it was still grey! Like a black sand beach grey. I was so disappointed. Eventually I decided that the workaround to my grey buttercream was to add a lot more colouring to a small portion and use that to frost the cupcakes for the photos. Even if it would end up being super bitter and probably stain my tongue for a week, I didn't mind because at least the cupcakes would look great in the photos.

Luckily, I didn't need to finish the bottle of black colouring, or even add any more! As my buttercream warmed up and I was able to mix it smooth again, I noticed the colour changing. The black sand grey turned to a beautiful shade of black. Yes!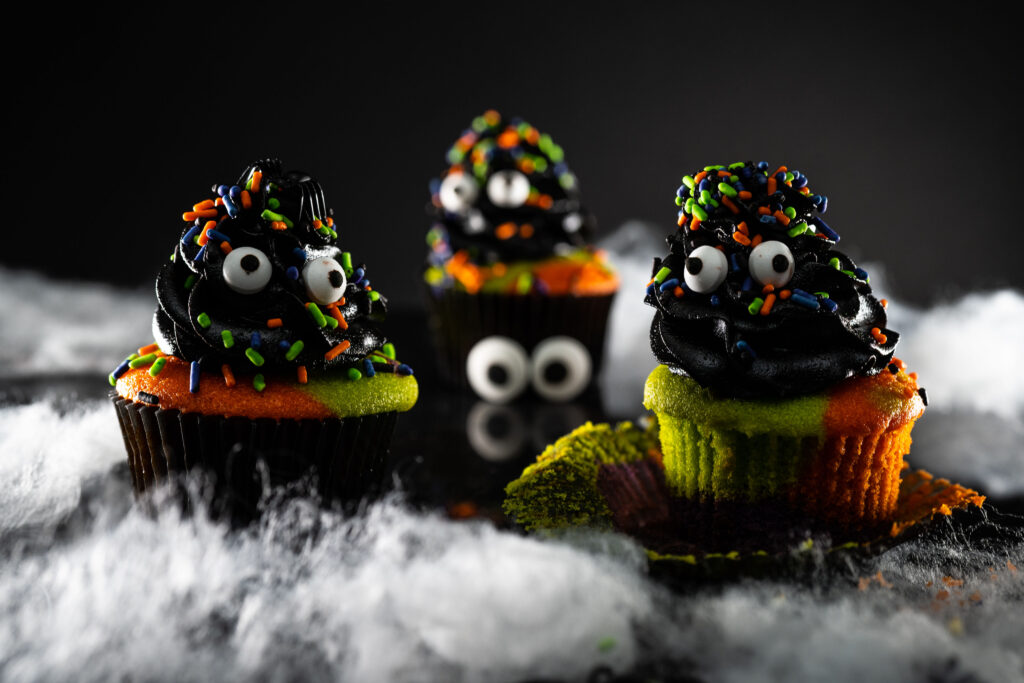 I love how these Halloween cupcakes turned out and I hope you enjoyed this Halloween Cupcake Project. Special thank you to my friends Kaiem (Sonix Productions) for not hesitating to create some magic with me in his studio, and Sireen for helping me get my props to Grenada.

Let me know in the comments what you think I should try next. Christmas is coming!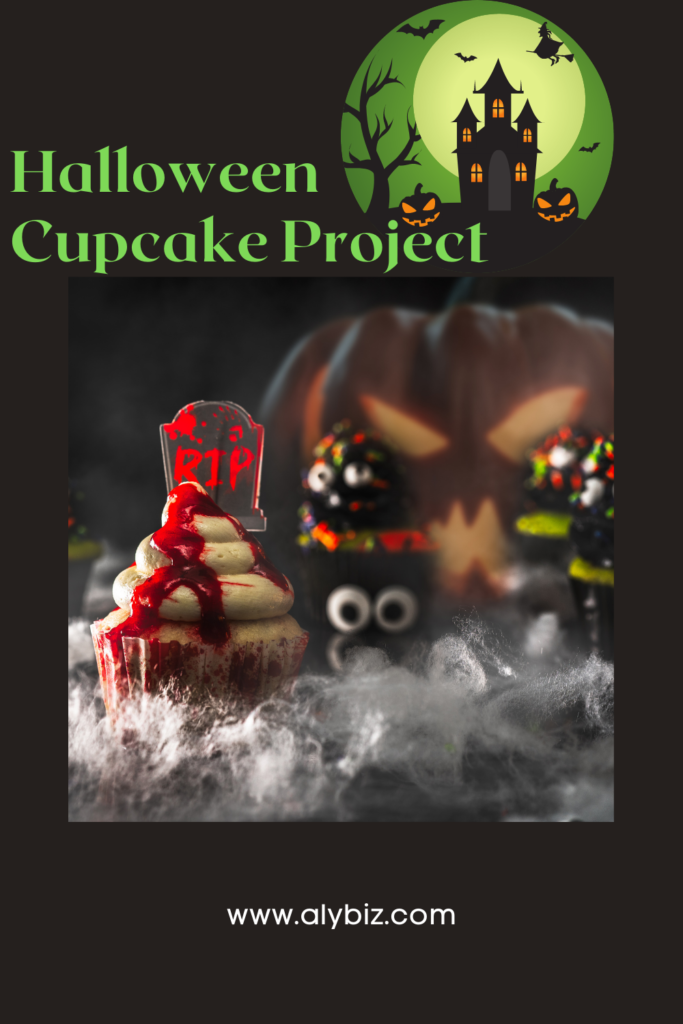 (Visited 336 times, 1 visits today)