When I went to my first NASCAR race in October, I never thought I would be going to another race so soon, much less becoming practically part of it. So when I arrived at Credentials at the Homestead Miami Speedway for the Sprint Cup Championship Race wearing my Drive To End Hunger "uniform", the moment seemed surreal.

For the weeks leading up to my NASCAR debut, my co-worker Kathryn gave me a NASCAR crash course  – itineraries, maps, random facts – but even with all that preparation I couldn't escape the culture shock.

For the most dedicated of fans the festivities aren't relegated to just race weekend, but actually start the week prior. These most dedicated fans set up camp in designated areas by the racetrack, and what would a campground be without shower facilities? Right by the road behind the fence. That's where it was — a big white trailer with a sign: HOT WATER! SANITIZED! MOBILE SHOWERS 3 FOR $20!!! Also available (just in case you forgot): soap, shampoo, towels, shower slippers…the list continued. A little further down the road I noticed a man standing with a fishing line by a small pond. I guess it was his turn to fix breakfast.

But this post is supposed to be about why I'm HOT, so let's jump to the actual championship race day. I was on Board Hospitality duty which meant accompanying the AARP board members shopping at the merchandise haulers and on the tour of pit row and the race garage. Sounds the same as my Dover tour but this time I had much more access. I got to experience the start of the race from down in the pit.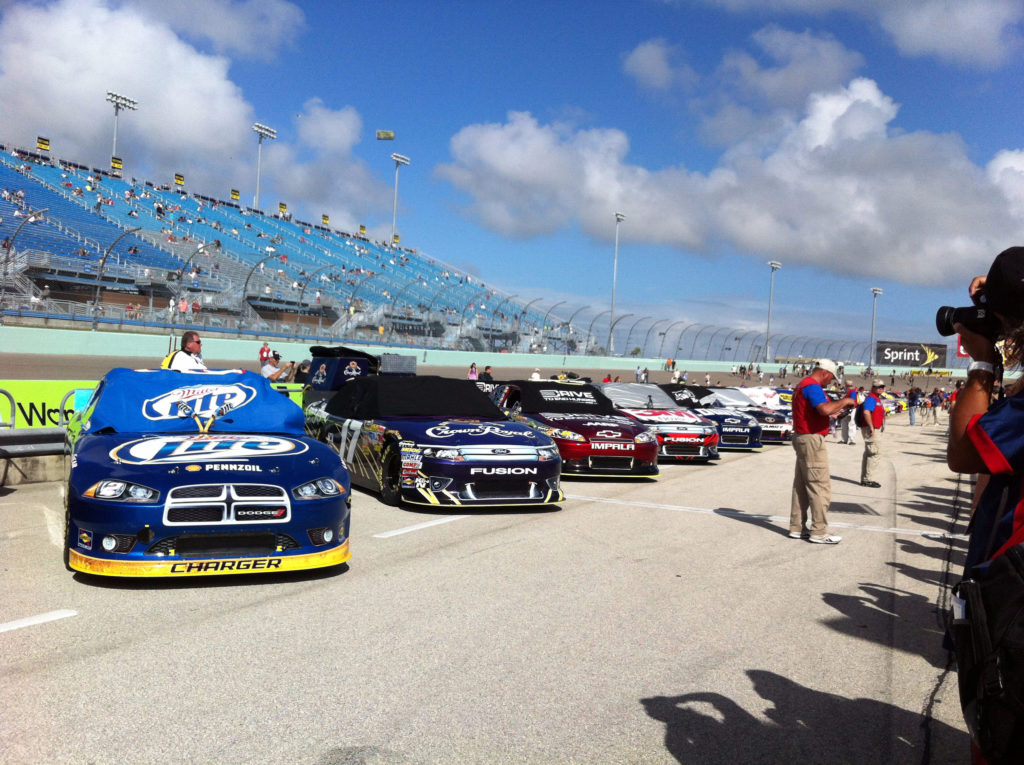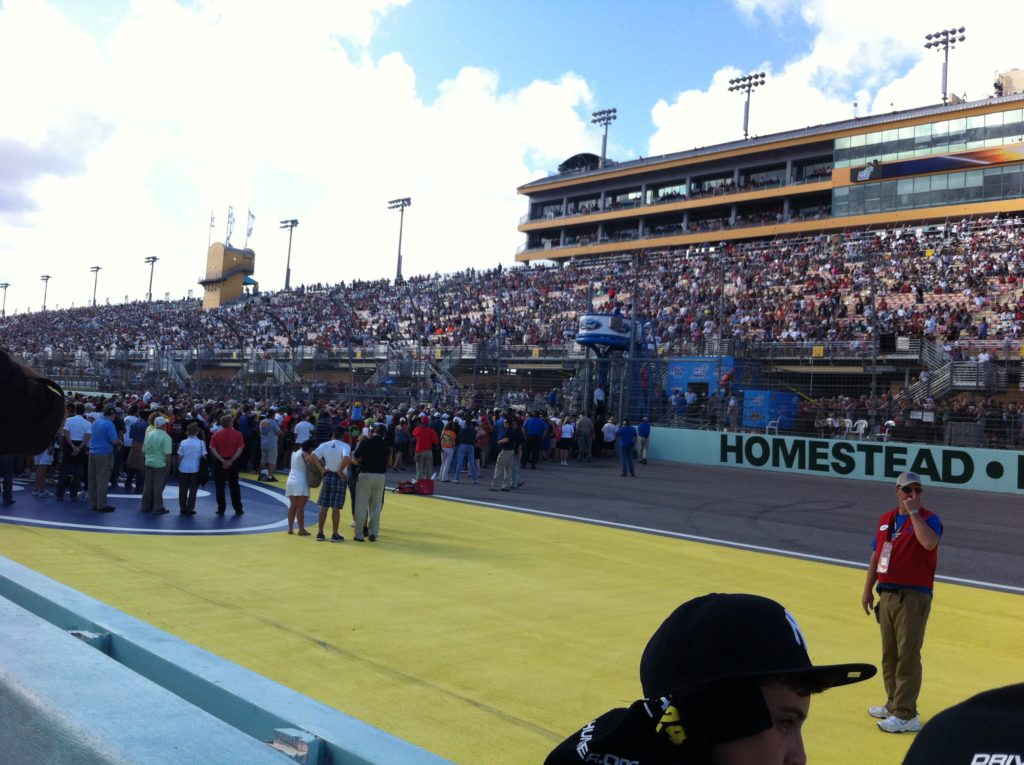 So there I was down on pit row standing less than five feet away from Jeff Gordon while he received best wishes from fans, friends and family. I got to see Jeff hug and kiss his wife and children, and play a little peek-a-boo with his baby son. While I was in the perfect position to take a photo, I couldn't bring myself to do so. The moment seemed almost sacred as his daughter clung to her father, because in such a sport you never know which one might be the last goodbye.

I got to see the pit crews huddle before the race and when I was tired of standing I got to plop down on a little curb in the race garage….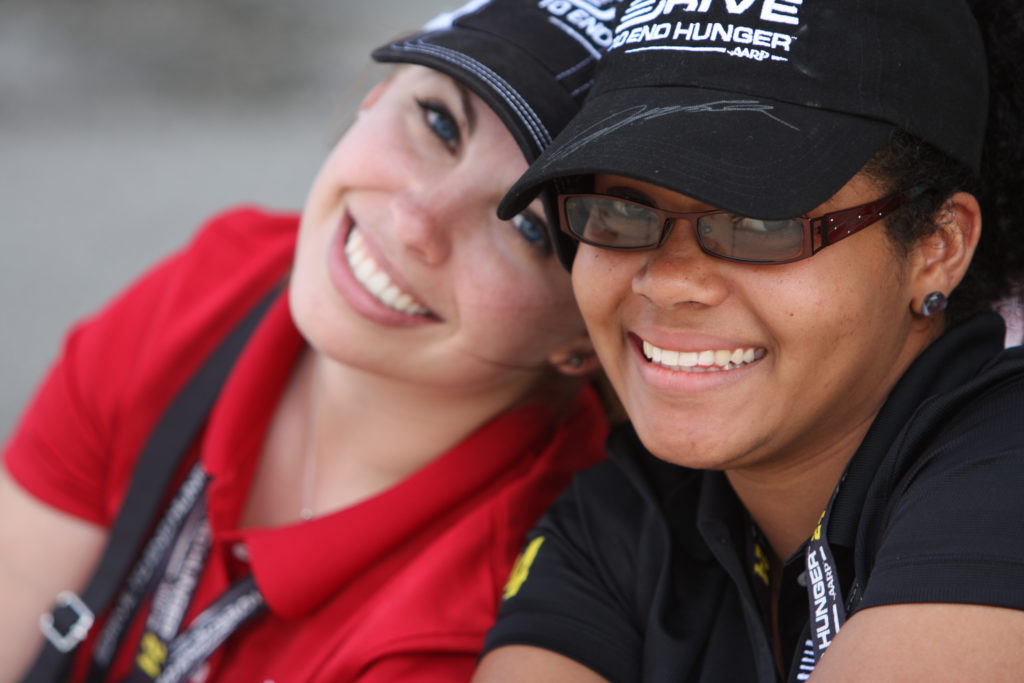 Still don't think I'm HOT? No worries, I'm HOT 'cuz my pass says I am!! 🙂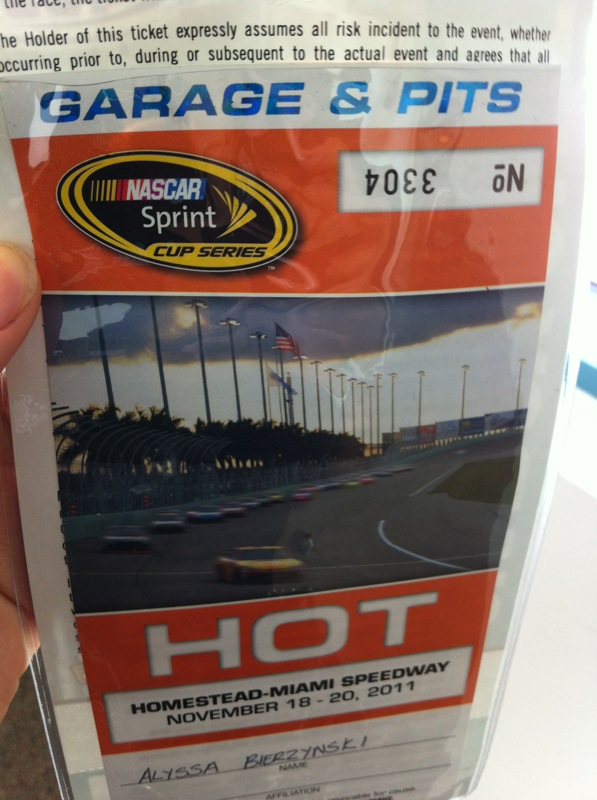 (Visited 42 times, 1 visits today)