Trinidad Carnival: The Greatest Show on Earth

I got my first taste of Trinidad carnival in 2005. I was 17 years old and in Trinidad during the carnival season to have my wisdom teeth (all 4 of them) removed. Maybe my parents' expectation was that I'd spend the full 10 days recuperating; however, after 2 days I'd had enough of the house. My cousins asked if I wanted to go to a fete with them. "Yes!" I said, "if you don't mind me following you with my watermelon face." They didn't. And with my swollen face, I went to my first real carnival fete. We went to pan semis the following night, and then I returned to Grenada a few days later.

Trinidad Carnival, which precedes Ash Wednesday, is at the top of the carnival bucket list for many carnival lovers around the world. "I must make it to Trinidad to play mas one year," they say. I was no different. After that preview in 2005, I vowed I'd be back. "Next year for sure!" I kept saying. Fifteen years later, I finally made it.

When I returned  from Trinidad Carnival 2020 in February, I had not the slightest idea that it would become the only mas I'd play this year. But, shortly after I got back home, everything started changing. Large gatherings were cancelled. Borders started closing, and one by one, the Caribbean carnivals were cancelled, including Spicemas, which was officially cancelled on May 5th.

It took me several weeks to come to terms with the reality that my Adventures of an Island Girl 2020 plans had been put on an indefinite hold. As a result, this post, and a few others, remained in the drafts folder collecting dust. But the magic of carnival transcends two days on the road or even two weeks after, or in this case, more than two months. Here it is now, finally, my recap of that time I trampled Port of Spain, i.e. Trinidad Carnival 2020.

No, we cannot. Even without firsthand experience of the vibes in a Trinidad party, one look at the list of more than 200 events scheduled for the 2020 carnival season is support enough for the argument. As carnival week drew nearer, the number of cooler fetes, cruises, breakfast fetes, paint, water and powder fetes, drinks inclusive and all-inclusive fetes doubled. I knew people planning to hit multiple events on the same day for several days! How?! Knowing there was no way I'd survive that* I spaced out the week and only went to 4 events: Tuesday on the Rocks, Tribe Ignite, Soca Brainwash and Soca Takeover.

*In May 2019 I strained my hip flexor so badly that I spent the next four months limping and in physiotherapy. As a result, since the hip could mash up again after the mas but not before, I had to be strategic #priorities. 

If you read my 2016 Spicemas review then you already know how I feel about Kes the Band. After watching Tuesday on the Rocks every year from a distance, I was ready to finally experience it in person.



The 2020 edition of Tuesday on the Rocks, titled The Rhythm of Life, featured a star-studded cast that included, among others, Voice, Patrice Roberts,  Teddyson John, Erphaan Alves, Freetown Collective, Nadia Batson, Sekon Sta, Skinny Banton, Jimmy October, Teri Lyons, and Kes the Band, of course. Kes certainly captured the magic of the music, performing many of my favourites and their 2020 hits. Their set closed with an electrifying performance (complete with 'Godzilla'!) of crowd favorite Stage Gone Bad, a collaboration with Iwer George that went on to claim the coveted Road March title. Call the contractor, call the mash-up doctor, call the fire brigade, because when they were finished the stage was, in fact, not good again.

Do you want to experience the magic that was Tuesday on the Rocks 2020? If you're outside of Trinidad & Tobago you can view the concert on demand (for free!) with Tego TV.

Tribe Carnival's annual carnival Thursday event, dubbed Ignite 2020 °C, promised to "make you sweat with no regret." And sweat we did. Machel Montano was the headline act and after he finished shell-ell-elling the place, the Laventille Rhythm Section led us out of the grounds of the Hasely Crawford Stadium.

I got a GoPro Hero 8 just before carnival, so to practice my video editing skills I put together a few clips from Ignite. Check out the video below and let me know what you think!



I bought my Soca Brainwash – Treasures of the Orient – ticket in October, months before I even booked my flight to Trinidad. Soca Brainwash Trinidad, DJ Private Ryan's flagship event, is such a highly sought after event that tickets sold out within three hours of going on sale.

Since my friends had gone to an early morning fete, I was left to my own devices. I mean, if I could explore New Zealand by myself, I could handle two hours on my own in a fete. What did I do while I waited?  I ate. A lot.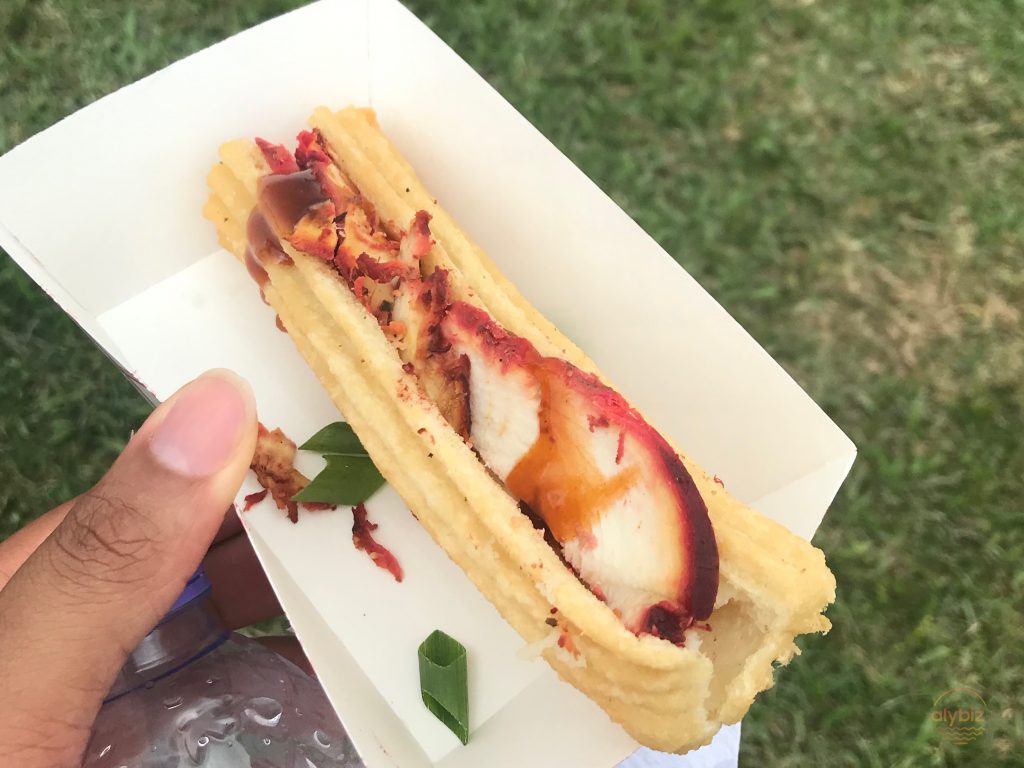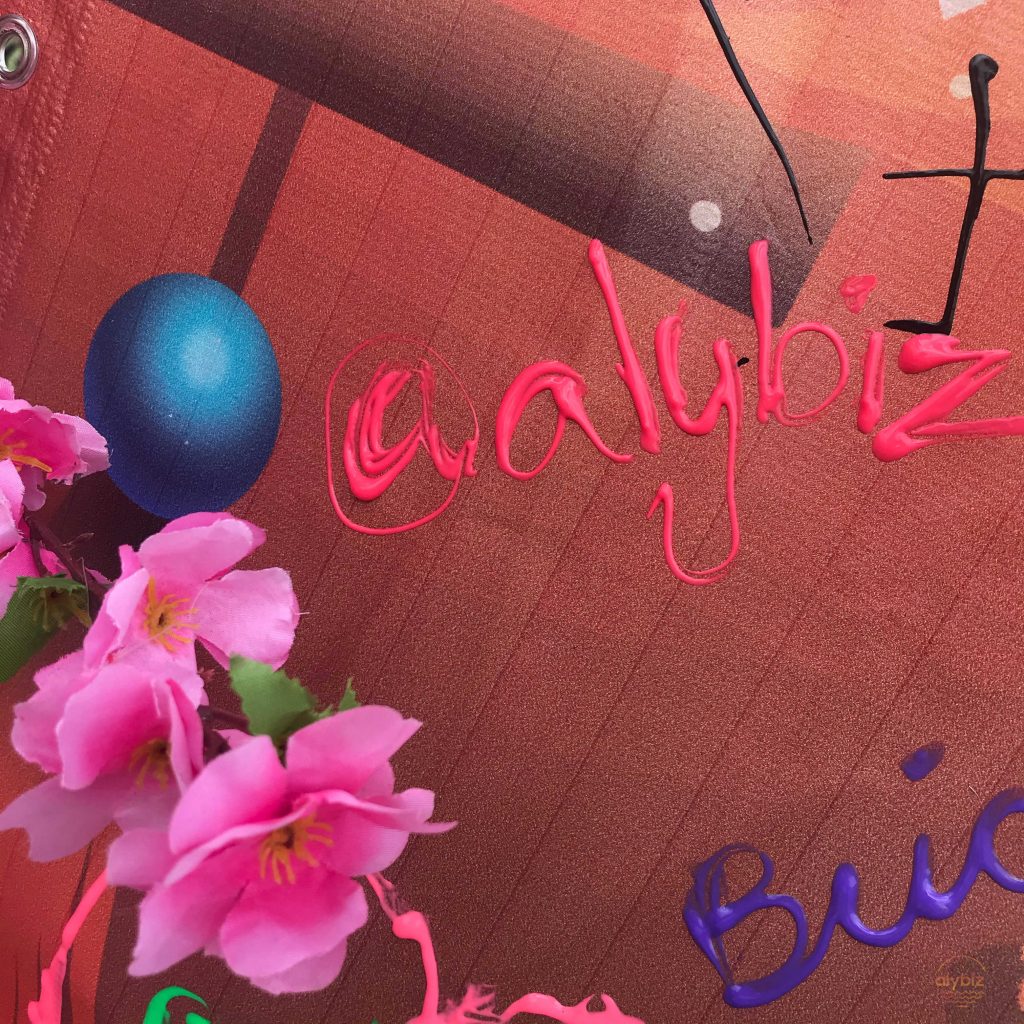 Are we surprised that the Grenada flag is the most prominent in the people fete?

Held for the first time this year, Soca Takeover was a cooler fete that brought Ravi B and the band Karma, and then Kes the Band to a smaller, more intimate, much less fancy stage. I know what you're thinking: BuT yOu SaW kEs PeRfOrM aLrEaDy ThAt WeEk.  However, in the absence of a massive crowd, and barriers set up between the audience and the stage, when Kees acknowledged the Grenada flag in the crowd, I knew he was speaking directly to me. #Swoon
Carnival Monday

I played j'ouvert with Red Ants Carnival and, to be honest, as a Grenadian I was hesitant. After all, it is a well-established fact that Grenada has the best j'ouvert. But, in the spirit of trying new things, I swapped the old oil for paint and a grass skirt.  Also, clean up was a breeze. Water-based paint for the win!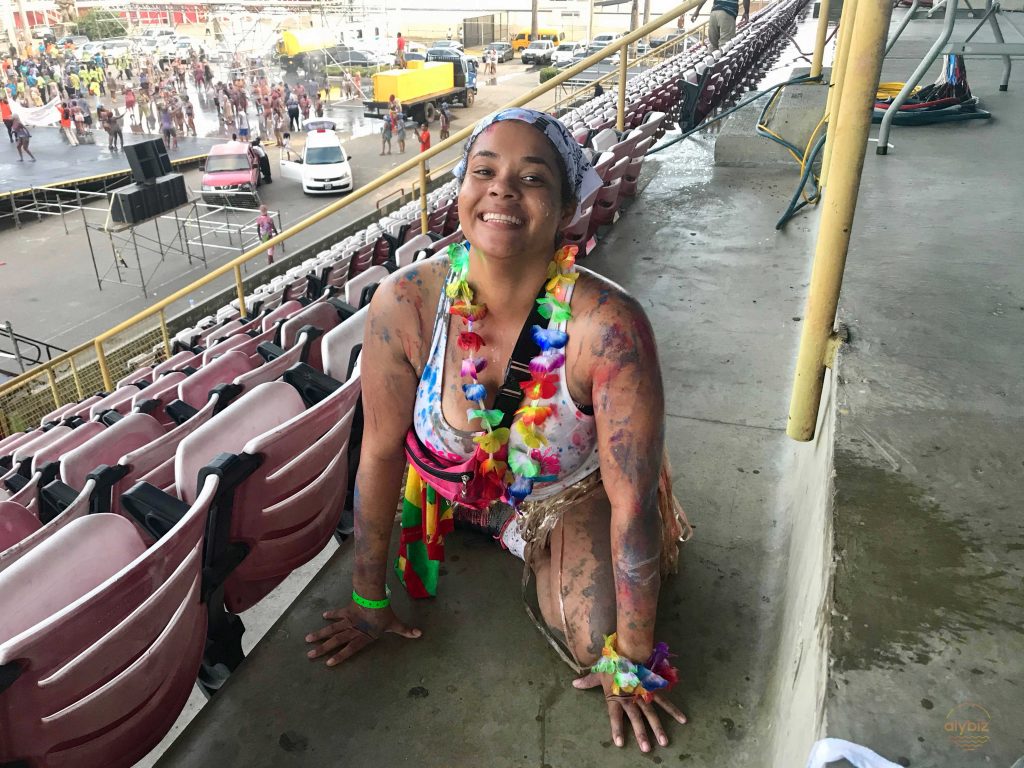 Bliss for de road!

I played mas with Bliss, an all-inclusive band with a size of 3,000. Celebrating 10 years on the road, this year's costume presentation theme was Nectar.

With first part of the epic 2-day journey on the road that is Trinidad Carnival under my belt, and after a short nap, I was ready to hit the road with Bliss. Since I didn't make it to the band for their 10 AM departure, I waited for the shuttle which should have taken us to the band, or at least close to it. When I got off the shuttle, I expected to find the band quickly since Bliss had just gone up so. Except 30 minutes after getting off the shuttle I still hadn't found Bliss. Well where Bliss gone? This is not how I'd imagined I would be trampling the streets of Port of Spain. Thankfully with the help of What's App's live location feature and some police officers, I eventually found the right up so and met the band just before noon heading into Queen's Park Savannah.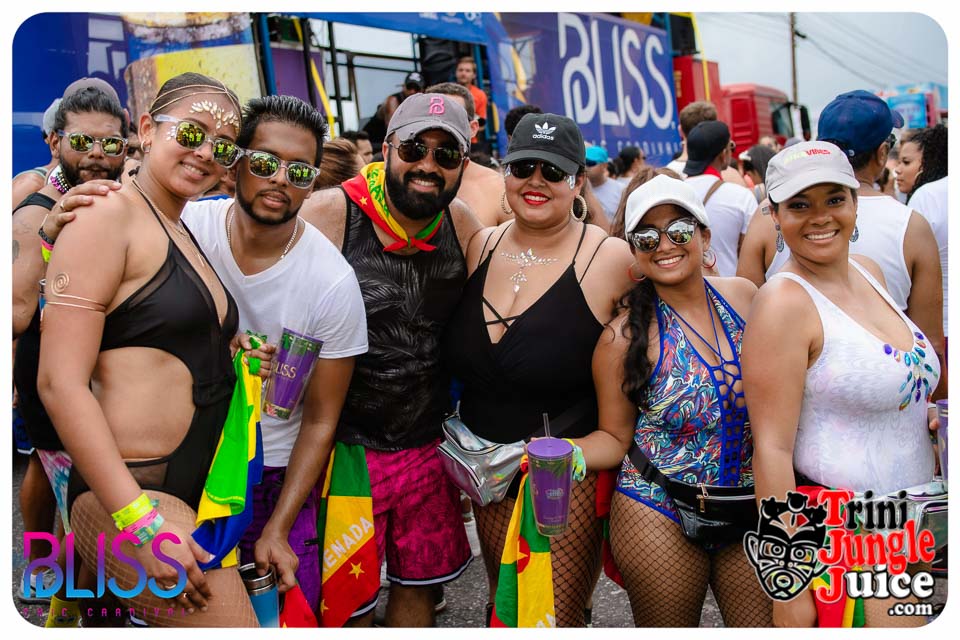 When I think back on my carnival preparation, I'd say I was prepared logistically. I knew how long we'd be out on the road, so I wore comfortable sneakers and cut my toenails really short to prevent any toe injuries.  One thing I was not prepared for, however, was just how fast the trucks moved. Forget a slow chip, it was a whole race! Needless to say, by the time I got back to my aunt's house (at 8 PM), I was done.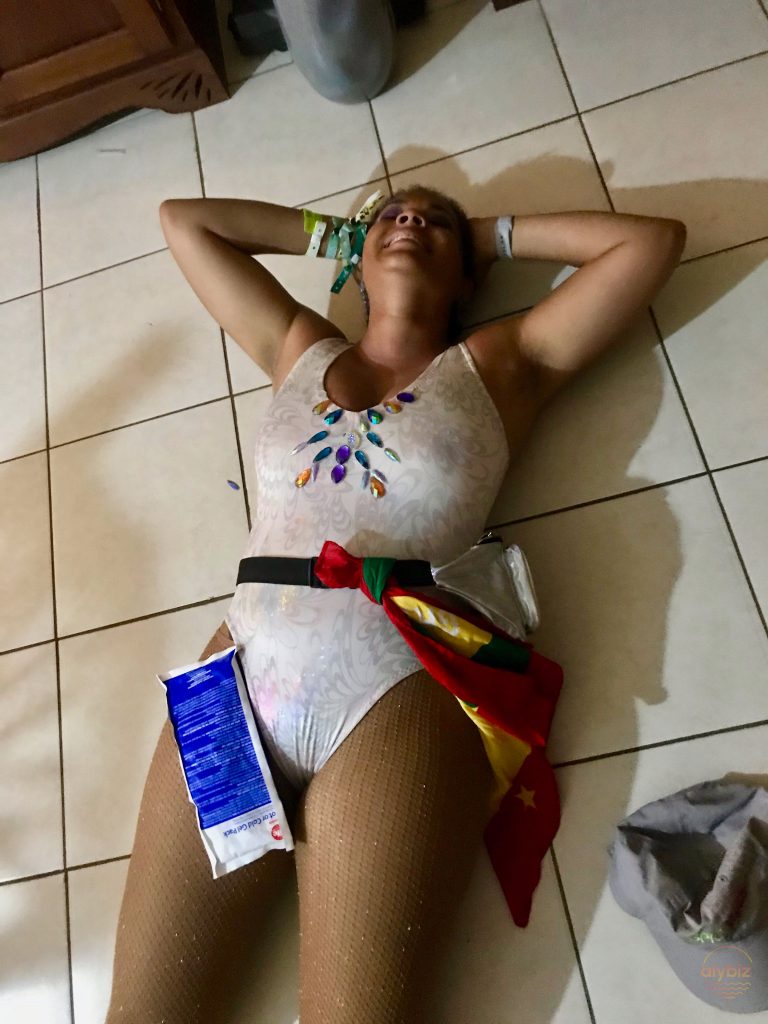 Carnival Tuesday

The next morning my alarm rang at 5 AM. Bliss was scheduled to leave the assembly point at 7:30 AM, so if I wanted to make it there in time, I'd have to leave the house at 7. Nope, not happening. I hit snooze twice before rolling out of bed to get ready. Somehow I managed to be ready and out of the house at 8 AM. Never had I ever imagined I would be in full costume that early. But, when in Rome, right?

While on my way to meet Bliss, I passed through another band getting ready to move off. I didn't know which band it was at the time, but as I saw the masqueraders putting on large cape-like wings, I thought "this is going to be stunning on the stage." Turns out I was right. This band was Kinetic Mas, whose portrayal Mas Pieta designed by Peter Minshall captured the Overall Band of the Year title.

Luckily for me, and unlike the previous day's "Where Bliss Gone?" adventure, the band was right there at the intersection when I made it down the road. I got breakfast: chicken sandwich, a banana, and coconut water. Then I jumped into the band pumped and ready to go for the 10 hours that lay ahead.

For the first time masquerader, crossing the stage with your section is a must-do part of carnival. It's a rite of passage. A non-negotiable fact. A…well, you get the point. Crossing the stage is an integral element of the carnival experience. Mas veterans speak of it. Soca songs cover it. Masqueraders wait all year for it. For that moment when the security guards step aside letting thousands of revelers charge the stage to mash it up, shell it down, and turn it over.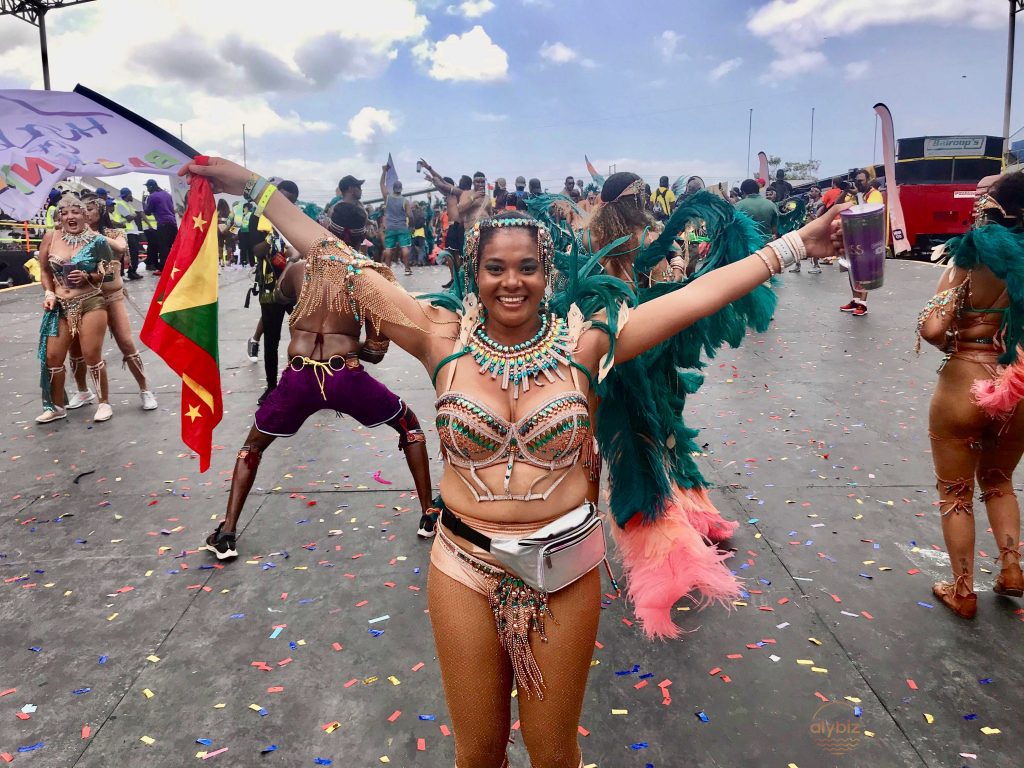 It wasn't yet noon when we left the Socadrome. Still 7 point something hours left. Was I going to make it? Unclear, to be honest. By the time we got to the rest park for lunch, the familiar ache in my leg had set in. After lunch and some stretches, I felt a bit better but still wasn't convinced. With my aunt's house so close to the rest park, I seriously considered calling it a day and heading home.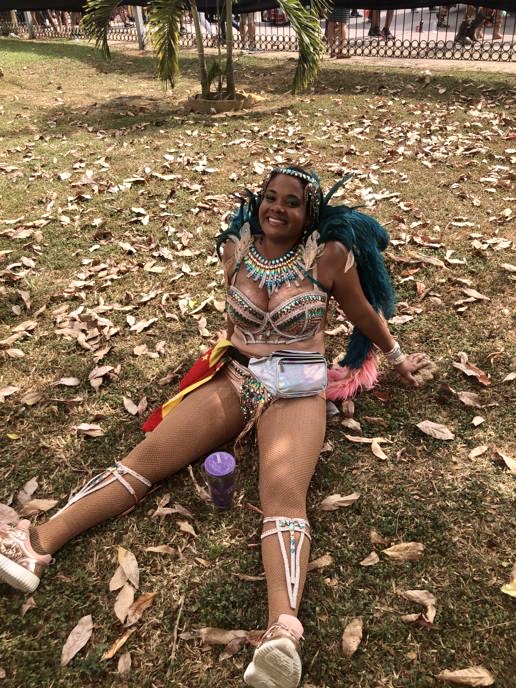 Luckily better judgment prevailed, and I was back on the road. I hadn't come that far to bow out at 3 PM.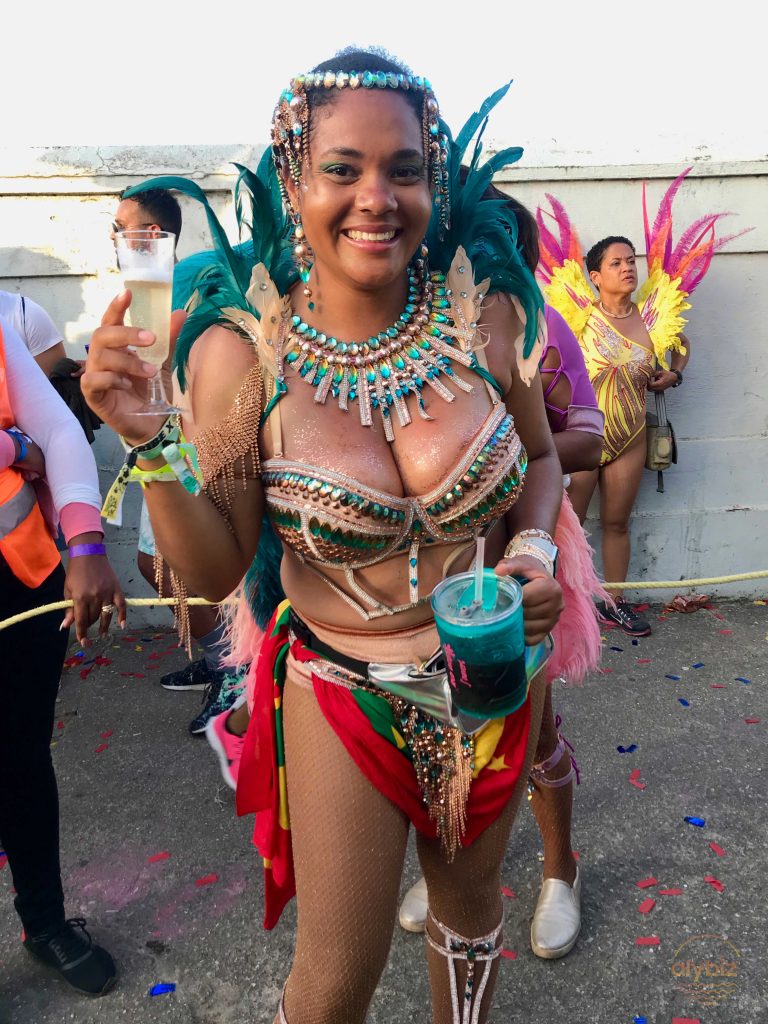 The mas on the road continued until about 7 PM when masqueraders from six bands – Tribe, Bliss, Lost Tribe, Harts, Rogue and Pure – met up in Nelson Mandela Park for one last jump up.  Unable to ignore the pain in my leg anymore, I left Las' Lap for a slow, but with purpose, walk back home… 13 hours after I first left.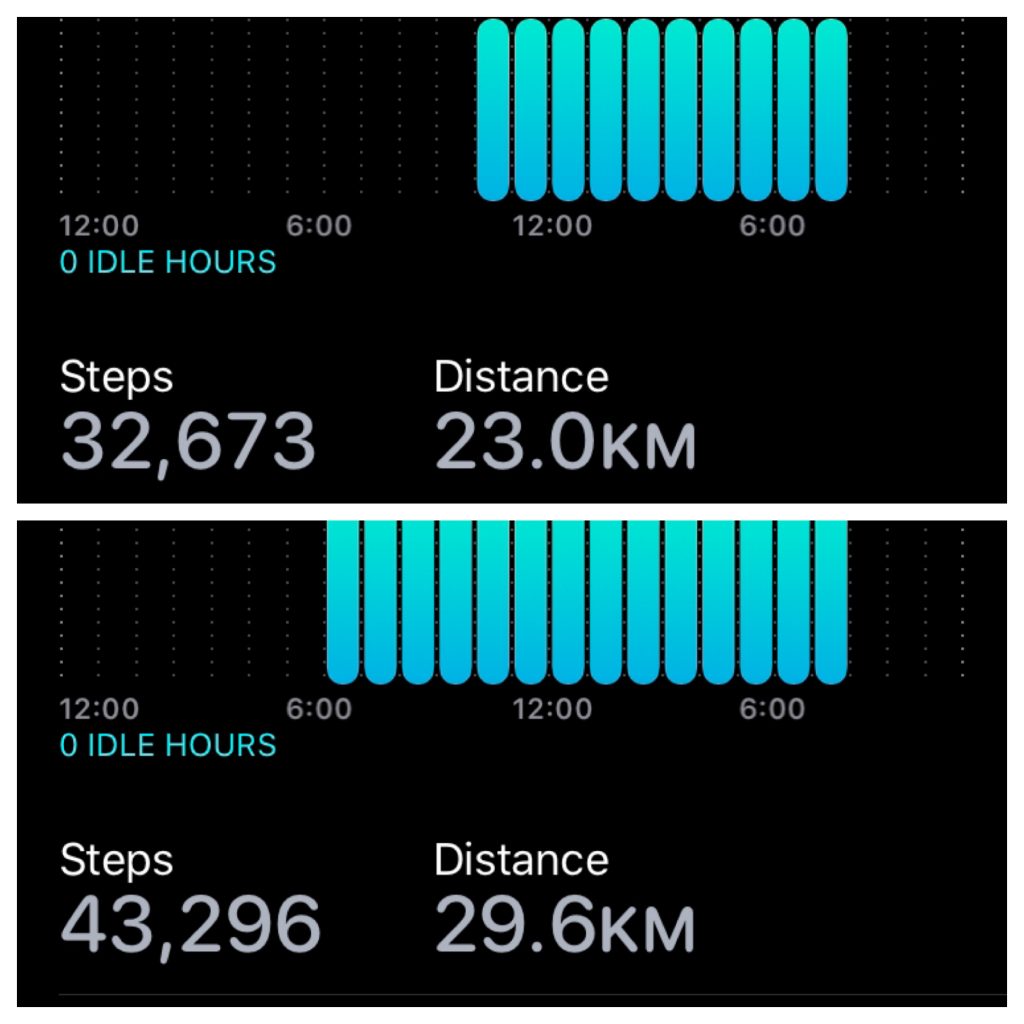 There's a reason people call Trinidad Carnival the Greatest Show on Earth and the Greatest Street Party. With action that is non-stop, the experience is not for the uncommitted. It's the only way to keep going! For me, I had to pace myself. But it would have been easy to get caught up and try to go to everything.

What stood out to me the most was the attention to detail paid to all aspects of the carnival product I experienced. There were so many moments when I found myself in awe, whispering "I've never seen anything like this." From complete venue transformations and extensive food offerings to prompt start and end times and air-conditioned mobile toilets, I was impressed. Will I return and do it again? Yes, definitely! And hopefully without an injury.

PS: My strategic decisions to preserve my hip worked! After a day of soreness, I was good to go. However, I hurt my wrist lifting my suitcase, which meant I was back in a brace for a month. Oh, Alyssa!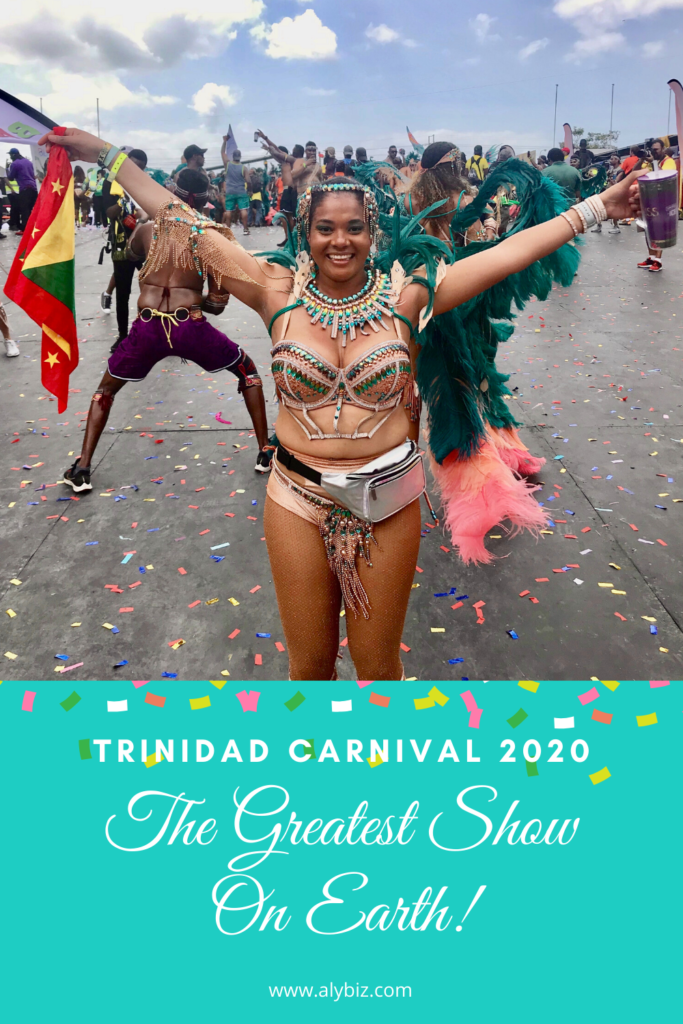 (Visited 759 times, 1 visits today)