"Māui is one of the most famous characters in Maori folklore. This legend tells how Māui caught a huge fish which eventually became the North Island (Te-Ika-a-Maui) of New Zealand. The canoe or waka from which he caught the fish became the South Island (Te-Waka-a-Māui).
Māui was not a keen fisherman, and he also had the reputation of being a trickster. For these reasons his older brothers hated taking him with them when they went fishing. He was always playing practical jokes, and would often question the authority of his elders. 
One day Māui's wife was nagging him to do something. She told him he was lazy, and said that he should help her with the chores. Māui became tired of her nagging and decided that he too would go out to fish the great oceans of Tangaroa. 
Before leaving to go fishing, Māui went to the sacred burial cave of his ancestors. He took the jaw bone of his grandmother and fashioned a very special fish hook from it. Then he set out in his canoe. 
When he arrived at the fishing grounds Māui's brothers refused to give him any bait, but this did not deter Māui. He made his nose bleed, and dripped blood onto his hook. Then he cast his line into the sea. Before long a fish took his bait. Māui struggled hard with the fish, and eventually he managed to haul it up. It was the biggest fish anyone had ever seen. 
Today Māui's fish, Te-Ika-a-Māui, still remains on the surface of the sea. According to Ngāti Porou tradition the first part of the fish to break the surface of the water was the summit of Mt Hikurangi. It was the first point to see the sun. And today Mt Hikurangi, on the east coast, is the first place to see the sun each and every morning."
Rotorua, New Zealand's Cradle of Māori Culture and History.

The rain finally stopped when my bus arrived in Rotorua after an almost 5 hour journey from Auckland. Even though it wasn't hot, it was humid, and a heavy stench hung in the air. "This place smells bad," I thought while walking to my hotel. Then I remembered where I was. Rotorua, in the Bay of Plenty region, is situated in North Island's geothermal valley (so sulphur, not sewage). But there's a lot more to Rotorua. In addition to the geothermal wonders of sulphur lakes, hot pools and geysers, the little city of Rotorua is "New Zealand's cradle of Māori culture and history."

For many of us from the other side of the world, our exposure to New Zealand's indigenous culture has been limited to videos of Haka performances by the All Blacks, New Zealand's rugby team. So, not wanting this to remain the case, I made my way to Te Puia for a Māori cultural experience.

Te Puia is the centre for New Zealand's Māori culture and geothermal wonders. Home not just to the world-famous Pōhutu Geyser, visitors can also marvel at Te Puia's boiling mud pools and see the Ngāraratuatara cooking pool in action for Ingo, the cooking process where flax baskets with food inside are lowered into the boiling water. Te Puia also houses the New Zealand Māori Arts and Crafts Institute (NZMACI). Dedicated to preserving the legacy of Māori culture, NZMACI consists of the national schools of wood carving, stone and bone carving, and weaving, and the Tā Moko (Māori tattoo) Studio.
Te Pō at Te Puia

From the moment I approached Te Puia's ticket counter I felt welcome, but not in your typical tourist destination way; it was personal. This, I later learned, is manaakitanga and at Te Puia it means that regardless of who you are and where you've come from, you're treated like one of the family.

Our Māori cultural experience started with an introduction to the cousins and Auntie Carol who would be showing us around. We were then split up into groups (my group got Auntie Carol), and headed to the Rotowhio marae (gathering place) and wharenui (meeting house) for the pōwhiri (traditional welcoming ceremony).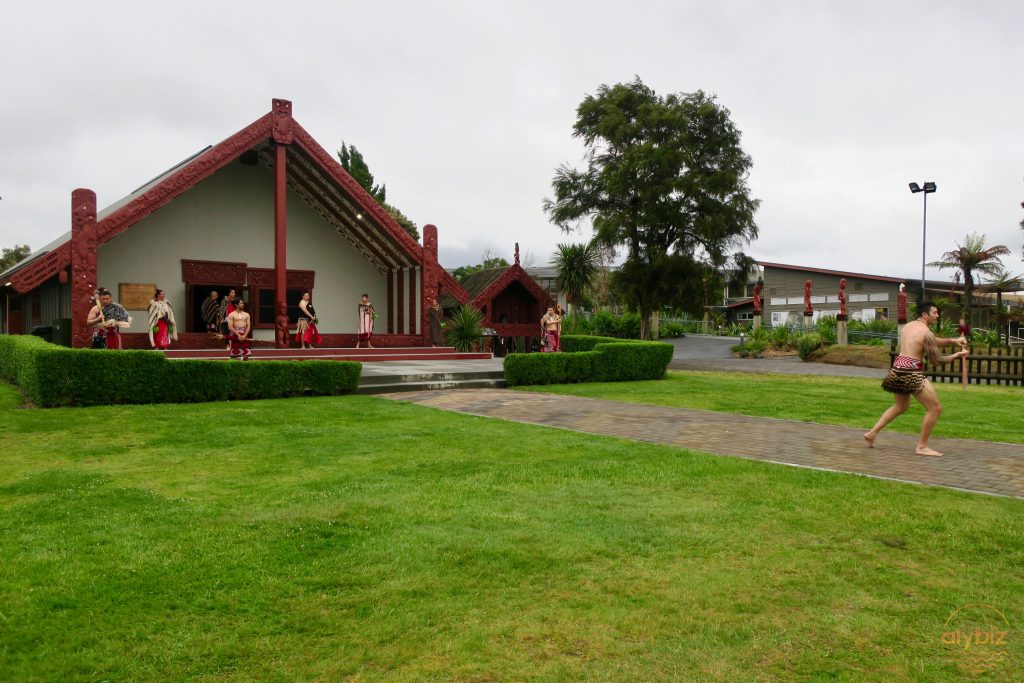 Our guides requested that we remain silent during the pōwhiri, which was the most formal part of our evening. Even though photos and videos were permitted, I chose to put my camera away after I captured my photo. One was enough.

Once the first part of the pōwhiri ended, we followed Auntie Carol inside the wharenui for the second half of the pōwhiri and the kapa haka (performing arts concert). And what a concert it was! Through song and dance, Māori stories of love, family and adventure came to life on the stage. My favourite? The story of Tutanekai and Hinemoa, star-crossed lovers from Rotorua who were eventually reunited.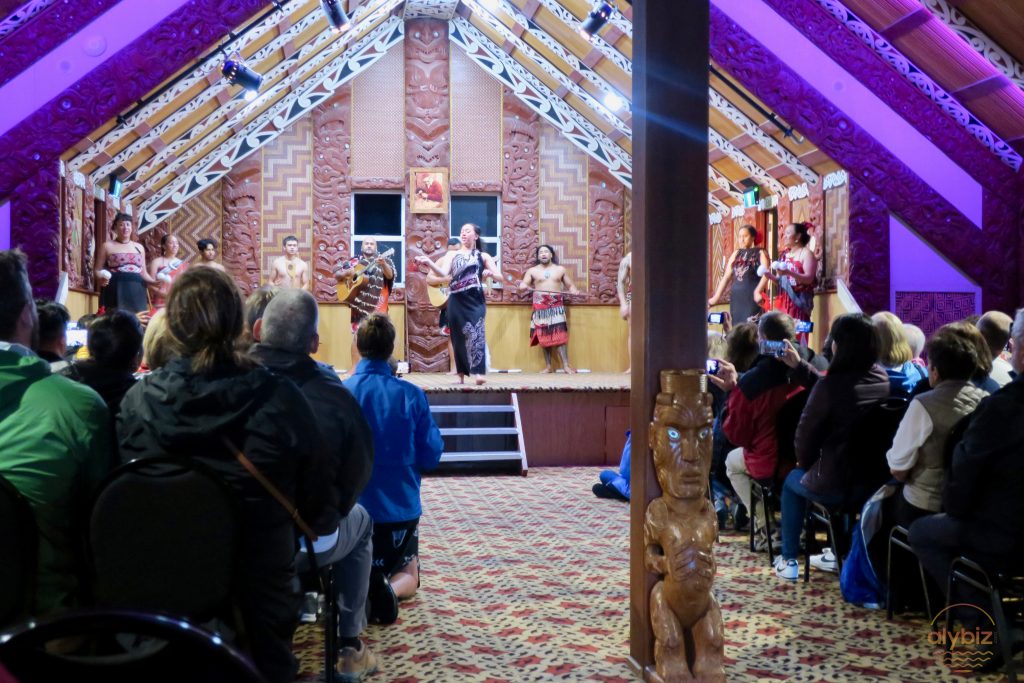 As a bonus, a few members of the audience went to the stage to learn the graceful Poi dance and powerful Haka. Of course I went, but graceful I was not, as I flailed and fumbled on the stage. I'm sure the moment where I hit my head with the poi made it to someone's Instagram story. Luckily, I can show you the actual beauty of the dance and not my clumsy antics.
Now time for the Māori feast!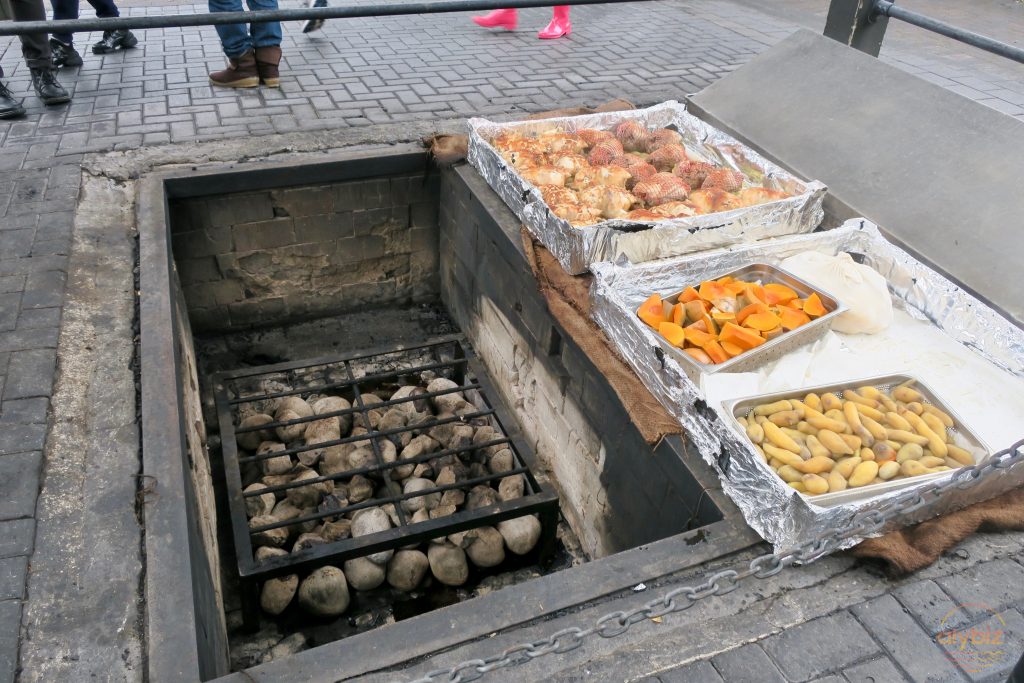 The Te Pō experience includes a Māori feast with food prepared in the traditional hangi style. Chicken, lamb, pumpkin and kumara (sweet potato) cooked in the hangi (earth oven) were accompanied by a full spread of New Zealand mussels, crayfish, beef, vegetables among lots of other dishes. I sat at a table with an older couple from Australia and a younger couple from California, and it was a delight to share travel stories with them.

After dinner, we hopped on a motorized waka (people mover) and headed into the geothermal valley to see the Pōhutu Geyser and enjoy hot chocolate under the stars. Except it was drizzling and you couldn't see any stars. But the hot chocolate was much appreciated while we waited for Pōhutu to erupt. Huddled under a canopy, we listened to stories of the Te Arawa tribe who made Rotorua their home hundreds of years ago.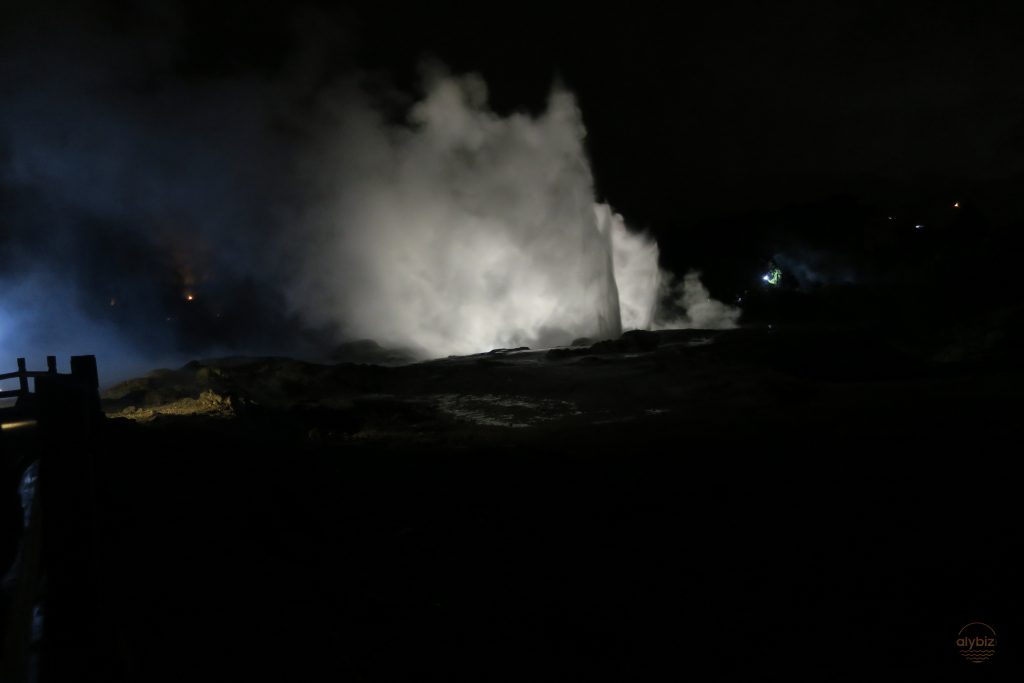 With my Te Pō experience over, it was time to figure out how I was getting back to my hotel. Since I couldn't  find information about hotel transfers when I bought my ticket online, I had taken a taxi to Te Puia. One of the couples on my waka mentioned they had come on a shuttle bus from their hotel and encouraged me to try to get on it. So I asked Auntie Carol…

"Of course, my dear. We'll take care of you."
(Visited 342 times, 1 visits today)